5 Tips for Planning Your Family's First Camping Trip
Pick Your Destination
Car camping is the best option for newbies; it allows easy access to the gear you'll need to be comfy and most sites include a fire ring, picnic table, and fresh water. Look for full-service campgrounds — they offer amenities (like bathrooms) you won't find at more remote locations. Popular areas book up fast, so reserve your spot two to six months out.

Skip the Pricey Gear
The first few times you head out, it's smart to borrow or rent gear. Many outdoor stores rent tents, sleeping bags, backpacks, and camp stoves. If you can't source supplies locally, Outdoorsgeek.com offers affordable rental packages and ships nationwide. For a list of what you'll need, check out the family camping checklist at Rei.com.

Get the Kids Involved
Let each child plan (and help prepare) one meal during the trip and also create the trail mix, says Nancy Ritger, an Appalachian Mountain Club program manager and mom of three. "The mix might have a higher chocolate and marshmallow content than you'd like," she says, "but the kids will feel engaged and part of the process."

Stop and Take It In
Resist the urge to schedule every hour of your trip. Take short, leisurely hikes, encourage daydreaming, sing silly campfire songs (find lyrics at Scoutorama.com), and consume plenty of s'mores. At the same time, have a few tricks up your sleeve in case of rain or restless kids, suggests Ritger. Think: playing cards, bubbles, and art supplies.

Leave No Trace
Teach kids to respect the great outdoors by minimizing your impact on the places you visit: Stay on marked trails, observe wildlife from a distance, keep noise down, and carry whatever you bring in back out. Let the kids oversee the final inspection of the site. Gold stars all around if it's tidier than when you arrived!
BONUS: Sleep Under the Stars in Your Yard!
Practice for your first camping expedition during the National Wildlife Federation's annual Great American Backyard Campout on June 27. To register, visit Nwf.org.
PLUS: THE BEST PLACES FOR FAMILY HIKING
The Best Spots for Beginners
Check out these sites across the nation, designed with novice campers in mind. For more ideas, visit Koa.com or Recreation.gov.


Moro Campground
Laguna Beach, CA
Tucked away in Crystal Cove State Park between Los Angeles and San Diego, Moro offers 57 family campsites, 2,000-plus acres of biking and hiking trails, and a gorgeous three-mile beach known for its tide pools and abundant shorebirds. While you're there, treat the kids to breakfast on the oceanside deck of the Beachcomber, a popular restaurant in the park known for its beignets served with syrup, whipped cream, and powdered sugar. Rates start at $35 per night for up to eight people (a real deal considering three-star hotels in the area average about $260 a night). Reserveamerica.com

Cardigan Lodge Campground
Alexandria, NH
Though it's family-friendly anytime, Cardigan Lodge really caters to newbies three weekends a year when the Appalachian Mountain Club offers guided "Introduction to Family Camping" expeditions. AMC's experienced guides demonstrate how to set up a tent, cook on a propane stove, start a campfire, and safely navigate trails. Best of all, tents, sleeping pads, and all meals (Friday dinner to Sunday lunch) are included. Adults pay $148; kids cost $35 to $49, depending on age. Outdoors.org
PLUS: HOW TO STARGAZE WITH KIDS

Tenderfoot Creek Campground
Moose Pass, AK
This site, located about 90 miles south of Anchorage in the Chugach National Forest, offers trout fishing; scenic trails (be on the lookout for bald eagles); and bike, kayak, and canoe rentals. Erin Kirkland, publisher of Akonthego.com, says it's one of her favorite places to camp with her son. "The location is perfect if you want to experience Alaska in a popular, family-oriented campsite that doesn't feel too remote." Historic Summit Lake Lodge, which has a restaurant, is within walking distance. Campsites cost $18 a night and sleep up to eight people. Recreation.gov
Little Grassy Lake Campground & Marina
Makanda, IL
Situated within the Crab Orchard National Wildlife Refuge, this spot welcomes new campers, with folks on hand to loan equipment and their expertise should you need help with your tent or fire-starting skills. Don't miss the beautiful nine-mile auto route, where you'll see everything from birds of prey to white-tailed deer. Campsites start at $15 a day. Littlegrassylakecampground.com

Mammoth Cave Campground
Mammoth Cave, KY
At this locale, you can sign up for a tour of Mammoth Caves (the world's longest known cave system), bike the park's nine-mile rail trail, or paddle down the Green or Nolin Rivers. Available on a first-come, first-served basis, campsites run $12 to $25 a night. Nps.gov/maca
PLUS: MORE TIPS FOR CAMPING WITH KIDS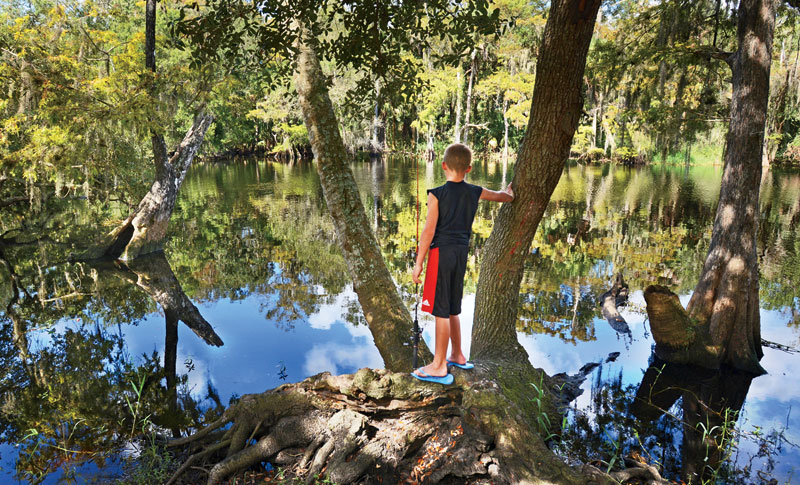 Fisheating Creek Outpost
Palmdale, FL
This old Florida-style campground offers shaded waterfront campsites, a convenience store, and easy-to-access bath houses. You can rent a canoe and paddle along a cypress swamp or sign up for a guided eco-adventure along one of the Sunshine State's pristine creeks, where the kids might spot wild boar, or even alligators! Tent sites start at $11.50 or $16.50 for a family of four, depending on the season. Fisheatingcreekoutpost.com
Photo Credit: Trevor Hart/Gallery Stock; Courtesy of California State Parks, 2015; Peter W. Cross for Visit Florida