The bloodiest battle in American history is under way...
It's 1863, and Thomas and his little sister, Birdie, have fled the farm where they were born and raised as slaves. Following the North Star, looking for freedom, they soon cross paths with a Union soldier. Everything changes: Corporal Henry Green brings Thomas and Birdie back to his regiment, and suddenly it feels like they've found a new home. Best of all, they don't have to find their way north alone — they're marching with the army.
But then orders come through: The men are called to battle in Pennsylvania. Thomas has made it so far...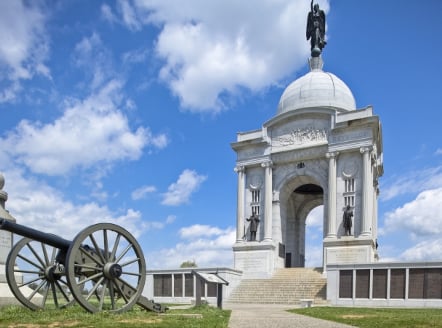 Did You Know...Facts about the Battle of Gettysburg, 1863
Can you imagine what it would be like to have no say in what happened to you? That's what life was like for the nearly 4 million slaves living in the United States in 1860, the year before the Civil War began. (It lasted four years, until 1865.) Slavery was also one of the main reasons the war was fought at all—because America couldn't agree on whether or not the country's many African American slaves should be free. When Abraham Lincoln became president, more and more people in the North were saying that America should not have slavery anywhere. Already it was illegal in the North. They said it had to be banned in the South, too.
Nobody knows exactly how many people died during the Civil War, but historians estimate that it was about 750,000. That's more than the number who died in all of the other wars America has fought combined.
Sadly, slavery has been a fact of human life for thousands of years. Even some of our country's founding fathers—George Washington and Thomas Jefferson—owned slaves. But some slaves (like Thomas and Birdie in I Survived #7: The Battle of Gettysburg, 1863) decided to take matters into their own hands. Like them, thousands of slaves from the American South attempted to escape by following the North Star, finding safe harbor on Underground Railroad—a network of people who felt that slavery was wrong, and were willing to offer their homes as safe harbor for slaves escaping to freedom in the North.
The Battle of Gettysburg was the bloodiest in the Civil War. The Confederate Army (from the South) lost 28,000 men, more than a third of their army. The Union Army (from the North) lost 23,000, but their army was bigger, and there were more people living in the North. Even so, the battle was devastating to both sides, and is commemorated today with the Gettysburg Memorial in Gettysburg, Pennsylvania.
Following the battle, Gettysburg was chosen by Abraham Lincoln as the site of his time-honored Gettysburg Address, beginning with the famous words: "Four score and seven years ago our fathers brought forth on this continent a new nation, conceived in liberty, and dedicated to the proposition that all men are created equal."

Want to find out more about the Civil War and

the Battle of Gettysburg?

Click

here

to get the book.
This site contains information and advertising about Scholastic and third party products.