Water Works Wonders: Introducing Water and Its Forms
This unit discusses the properties of water and the water cycle, including how water changes and how it moves through the cycle.
Quick links to unit plan resources:
Overview
Water makes up three-fourths of our planet and can be found everywhere we look: in oceans, lakes, rivers, ponds, and swimming pools. We use water in many different ways. It can be a solid, liquid or gas. The water cycle is continuous. Children will learn all this and more in this unit as we explore the wonders of water.
Objectives
Students will:
Describe where water is found in the world and how we use it
Explain how water changes, the forms it takes, and how it moves
Understand how water moves through a cycle
Compare various properties of water
Culminating Activity
I celebrate the end of our Water Works Wonder unit by inviting a speaker from the Department of Water to teach the children about water pollution and conservation. The children make posters to hang around the school reminding the school community about the importance of conservation and how to keep our water clean.
Supporting Books
---
Students observe, record, and describe colors and changes in the sky, including light refraction.
Presents a lesson plan about land formations, involving students building a topographical model.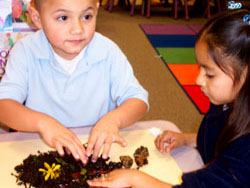 Presents a lesson in which students study the organic and inorganic properties of soil through experimentation, observation, classification, and data analysis.