Reading Partnerships
Help students engage in meaningful reading partnerships by composing open-ended questions and meeting regularly to discuss a common text.
Quick links to unit plan resources:
Objectives
Students will:
Reflect on their reading interests and strengths
Choose a "just right" book to read with a partner
Plan and organize reading meetings with a partner in the class
Review story elements by retelling the stories they are reading
Make text-to-self and text-to-text connections as they read
Compose "thick" questions about a text that encourage higher-level thinking
Discuss and evaluate literature with a partner
Make predictions about what they are reading based on evidence from the text
Plan and present a book project to their classmates
---
In this unit, students are paired with similar readers in their class to engage in meaningful reading partnerships.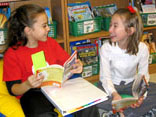 Reading partners will independently begin the book that they have both chosen to read. They will meet throughout their reading of the book to discuss the text and ask their reading partner questions about the story.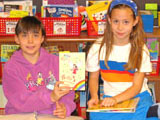 Students choose from a list of creative ways to culminate their reading experience and demonstrate their understanding of the book they read together.