Quick links to unit plan resources:
Objectives
Students will:
Discuss literature with peers
Use the terms character, plot, and setting
Make and test predictions
List things that fly
---
During Instruction
---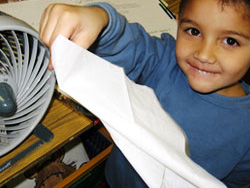 Students observe wind using their senses to observe the wind a€™s effect on different objects.
Students talk abour flight and make flight books using both invented spelling and the word wall. They also make kites.
Students will discuss literature with their peers, identifying the character, plot, and setting of the book and analyzing them.