Make bookmarks, puppets, origami boxes, story dice, noisemakers, paper flowers, and more with these classroom craft ideas your students will love. Click on each craft's title for the full details!
---


Put away the waxed paper and Vaseline and bring out the coffee filters and markers to create a twist on autumn leaf projects. Kids can use their imagination to fashion leaves of pink and purple and mint green. Bonus: Take young explorers on a nature walk to gather branches and add a hands-on science lesson to this fun, fall craft project. Click here.
---
1 handy template + a handful of multi-colored beans = a fun and easy pumpkin project kids will love! Simply cut out the template and mount on card stock, ­leaving ¼-inch trim. Glue dried beans, peas, and lentils in desired pattern, and voilà, a pumpkin of another color! Click here.
• Fall Craft Templates (Pumpkin, Turkey, & Leaf)
---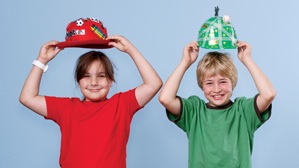 Gather a variety of hats (kids can bring their own), as well as scraps of fabric and ribbon, stickers, small trinkets and toys, and magazine and newspaper clippings. Have students choose a hat and then decorate it in a way that reflects them, using school glue or a glue stick to affix items. Wear your new hats at a getting-to-know-you class hat party! Click here.

---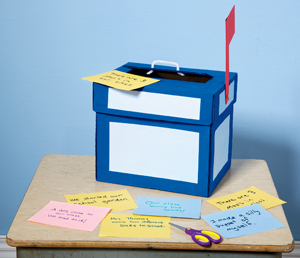 Welcome the new school-year by creating a "memory mailbox" to document all of the fun times ahead. Each Friday, students write notes and drop them in the box. Open at year's end for a back-to-school activity that comes full circle. Click here.
---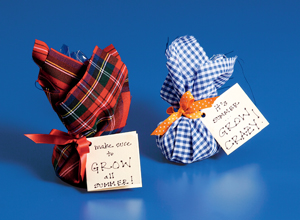 Celebrate the end of the year with a gift that will keep on growing. Help kids craft mini-gardens out of recycled plastic bags, fabric scraps, and ribbons. Fill each DIY satchel with a half cup of soil and a sprinkle of wildflower seeds. Kids can then scatter their garden-to-go in the backyard or a soil-filled container, water frequently, and watch flowers bloom through the summer. Click here.
---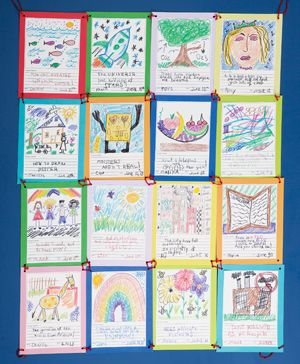 Have students share advice with next year's class by decorating templates with sketches, poems, and stories recounting favorite classroom memories. Glue templates to colored paper and use yarn to tie it all together. Click here.

Download the Wisdom Quilt Template from Instructor Magazine
---
Watch young artists blossom as they transform egg cartons into colorful flowers. Work with kids to cut out petals and centers, then paint in bright shades. Add pipe-cleaner stems for a one-of-a-kind springtime bouquet.
Watch Instructor magazine's resident crafter Jim Noonan demonstrate this craft:
---
Decorate reusable canvas totes with fabric paint for a craft project that doubles as a hands-on lesson in conservation. A further green twist: DIY stamps using adhesive foam and recycled bottle caps and jar lids.
Watch Instructor magazine's resident crafter Jim Noonan demonstrate this craft:
---
Imagination reigns in Maurice Sendak's classic book, Where the Wild Things Are. Help students create Wild Thing costumes and Wild Thing masks, then see what creative stories they come up with during imaginative play. Don't forget to practice your rawrrrs!
Watch Instructor magazine's resident crafter Jim Noonan demonstrate this craft:
---
On February 14, 2013, Clifford the Big Red Dog will celebrate his 50th birthday! Join in the fun by creating these festive party hats with your class. Just download the templates, print, and create.
Watch Instructor magazine's resident crafter Jim Noonan demonstrate this craft:
---
Use scrap paper to create beautiful landscapes like those in Ezra Jack Keats's The Snowy Day. Students will practice working with shapes and learn the concepts of foreground, middle ground, and background.
Watch Instructor magazine's resident crafter Jim Noonan demonstrate this craft:
---
Here's a winter craft project with a green twist. Have kids collect their family's plastic six-pack rings. Rather than ending up in a landfill, they'll become larger-than-life snowflakes!
Watch Instructor magazine's resident crafter Jim Noonan demonstrate this craft:
---
Use up old crayons, create a beautiful classroom decoration, and teach a lesson on the science of melting in this fun project.
Watch Instructor magazine's resident crafter Jim Noonan demonstrate this craft:
---
Kids will love transforming discarded orange peels and spices into potpourri. Along the way, they'll learn about dehydration, rehydration, and evaporation. They'll also create a festive gift to bring home.
Watch Instructor magazine's resident crafter Jim Noonan demonstrate this craft:



---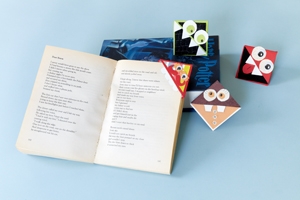 Art and geometry come together with these merry monster bookmarks. All you need is some sturdy paper, scissors, glue, and your students' imaginations. Find easy, step-by-step instructions for this and other unique and fun paper crafts at scholastic.com/kidscissors.
---
These puppets are easy to create: Collect images of characters from your favorite books (or have kids draw their own!). Add pipe cleaners to form the bodies, then attach to craft sticks with classroom glue or glue dots. Pass them out, along with some favorite fables and fairy tales. They can improvise or write their own dialogue, then act out dramas in pairs or small groups. Click here.
---
What you'll need:
Construction paper (in five colors)
Paper-folding template, available for download
Scissors
Ruler
Glue stick
Cardboard (for backing)

1 Before class, cut construction paper into 1½"-wide strips. Have students fold and crease the strips to form triangles, squares, and trapezoids. For folding suggestions, download the template.
2 Students should cut their shapes out and sort them by shape and/or color. Have them choose one as the "starter shape." They can experiment with building out from it—what kinds of patterns can they make?
3 Once students have chosen a design, have them glue down the starter shape on cardboard backing.
4 They should continue to glue their design from the center outward. When finished, display or send home!
---
What makes students feel brave, or curious, or wise? Give them prompts like "I feel curious when . . ." and prepare to be amazed at what they write—and later share with their classmates. To start, download our free templates. After kids have written on them, help put them together with just a few folds and some cellophane tape.
Use these templates in your classroom. Click here.
---
Transform old toys into whimsical nameplates using chalkboard paint for a conversation-starting back-to-school activity. First, put out a call to parents to send in old toys, or collect them yourself from yard sales or dollar stores. Spray-paint the toys (outside of class), then bring them in for students to decorate with their names and other words or drawings. It'll quickly personalize their spaces and, perhaps, get kids talking about their interests. Click here.
---
Turn an ordinary jar into a great incentive for students to be good classroom citizens. Not familiar with the compliment jar concept? Here's the idea: Whenever a child says or does something nice, place a token in the jar. To up the acts of kindness, use tissue paper–wrapped prizes as tokens. Once students have accumulated a given number—and gotten in plenty of counting practice—reward them with a class party. Click here.
---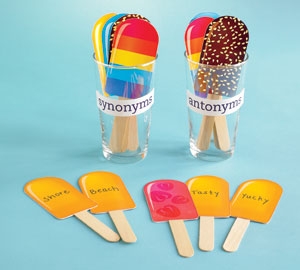 Get students excited about building their vocabulary skills with our colorful ice-pop game. Create matching pairs by writing synonyms, antonyms, or vocabulary words and their definitions on the solid yellow pops. Mix up the pops and have students place them flavor side up on the floor. Finally, have kids flip the pops to find each matching pair. This activity teachers vocabulary, synonyms, and antonyms. Click here.
---
Turn vocabulary practice into a search-and-find game kids can play during quiet time. First, print vocabulary words on card stock. (Download our beach-, baseball-, and camping-themed lists at scholastic.com/instructor.) Cut the words into strips and mix them in jars with beads or other small objects, and secure the lids with glue. Finally, give students a list of the vocabulary words. Encourage them to shake and twist the jars to find them all. Click here.
---
Studying countries or states? Have students sum up their knowledge with these colorful confetti displays. Begin by creating a representative collage or scene on construction-paper cards. Sprinkle with confetti and cover with a transparency layer, gluing it to the background around the edges. On the back, have students affix a small card on which they've written interesting facts. When they're done, they can present their geo cards to the class. Click here.
---
Kids love playful ways to generate writing ideas. Gather a handful of wooden cubes and a collection of colorful stickers. Place a different sticker on each side of the cubes. Have students roll one, two, or three cubes at a time and challenge them to include the images that land faceup in a story or a poem. Suggest that they choose one of the images to be the main topic in the story. Other images may provide a setting or perhaps a villain or crucial plot point. Then have students create longer stories, with a roll of the cubes for each new chapter or episode. Click here.
---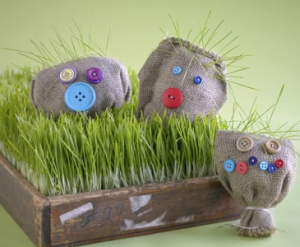 Instead of growing grass or seeds in a Styrofoam cup this spring, invite students to create their own stuffed friends—and observe as each begins to sport a signature spiky green 'do.
---
Students can learn about habitats and the water cycle by turning old glass jars and containers into mini-gardens. Begin by placing a layer of stones in the bottom of the container. Fill halfway with soil, then add an arrangement of plants. Layer with more soil, and add moss and plant or animal figurines. Click here.
---
Mixing up a batch of glittery dough is a fun project for the end of an astronomy unit, or for a discussion of the properties of matter and how those change when sub-stances come together. Combine one cup flour, a half-cup salt, two tablespoons cream of tartar, one cup water, and food coloring. Warm the mixture over medium heat until it forms a doughy ball. Knead in glitter when cool. Click here.
---
Bring real-world relevance to geology by inviting students to curate their own rock collections. First, gather different kinds of rocks from outdoors. Use the library and Internet to research their names and types. Attach the rocks to the inside of a box lid with glue and then label them. Click here.
---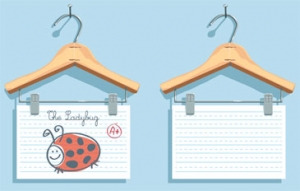 Use strips of bright masking or painter's tape to create instant frames that won't damage walls. Japanese washi tape comes in particularly fun patterns and colors and is available online.
Kids can easily switch out their own masterpieces when you hang clipboards in a square or rectangular grid. A nearby step stool can help little ones reach the top row.
Short on space? Look up. Install a curtain rod a few inches from your ceiling and display students' creations using shower or curtain clips. Avoid nails or screws by placing a suspension rod in a tight area (such as a window well or library nook).
Cork panels or tiles take up less room than a classic bulletin board, making them a great choice for narrow corners or otherwise unused classroom real estate.
Kids can personalize skirt hangers with paint and other decorations—and you can move the hangers from wall to bulletin board to clothesline.
---
Challenge students to use Mother Nature as inspiration for designing their own musical instruments. These colorful shakers were made using only Y-shaped branches, acorns, bells, and neon string. What other musical potential do students see in the world around them? Click here.
---
Save small lids from food jars and invite students to make their own snappy percussion instruments. First, attach two similar-size lids together using fabric tape. Then, tape a rubber band to each lid to serve as a finger holder. Glue decorative ribbons to the base, then cha-cha-cha! Let the music making begin! Click here.
---
Finish out your crafty orchestra with a set of these adorable mini-drums. Start with clean, washed cans of all sizes. Fill the cans with a few tablespoons of rice so they can be used as shakers, too. Trim the ends off large balloons, stretch them over the cans, and secure with rubber bands. Play the drums with chopsticks or shake for a catchy beat. Click here.
---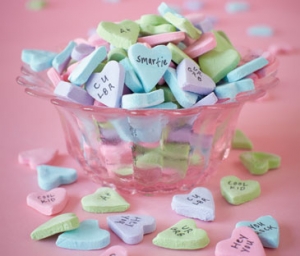 Instead of having students exchange store-bought Valentine's candy this year, help them make their own festive conversation hearts. Students will practice measuring, following directions, and, of course, brainstorming clever messages. You can also have them make scientific observations about what happens as you mix the simple ingredients (including gelatin and powdered sugar) together. Click here.
This DIY treat also makes a great gift to send home to families or share with support staff at your school. For the full recipe, click here.
---
Make beautiful crystallized ornaments without having to worry about them melting! Share this wintry science experiment with students: First, mix nine tablespoons of borax with three cups of hot water. Then, bend a pipe cleaner into a desired shape (heart, star, letter). Next, fasten a string around one end of the pipe cleaner, and the other to a pencil. Pour the borax solution into the jar and dip the pipe cleaner into the solution so the pencil is resting on the rim of the jar. Let it sit for six to eight hours and watch as crystals begin to form! Click here.
---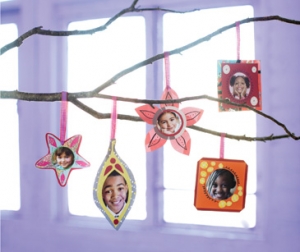 Everyone loves a photograph ornament (do you still have yours from childhood hanging on the tree?). Capture students' smiles—and the hearts of their parents—with easy, DIY paper ornaments. Just print or photocopy clear photos of students, offer an assortment of colorful paper and decorations like gemstones, feathers, and glitter, and watch as students create authentic keepsakes.
---
Encourage students to think creatively and practice writing with personalized, pocket-size notebooks. To make the books, simply cut, layer, fold, and staple together festive paper. Assign themes to each book, like "Goals for 2012," "Holiday Haikus," or "What I'm Thankful For," and let the writing begin! Click here.
---
Put extra scraps of paper to good use by creating colorful hanging wheels. Instruct students to cut the paper into equal-size strips, fold each strip in half, and glue the ends together. Assemble the wheel by putting a drop of glue on the end and middle of each loop and attaching it to the next. Keep going until you've formed a circle, and add a string to hang. Click here.