There are few explorations we do in the Art Studio more loved than Tissue Paper and Liquid Starch Collage. A collage is an artwork made up of different papers or objects glued together. Eric Carle uses collage to create the illustrations for his books by cutting shapes out of tissue papers he painted with acrylic paint and gluing them to thick white board.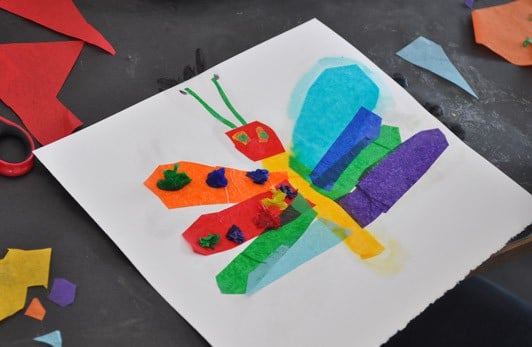 We offer this project in the Art Studio from time-to-time as a way for guests to connect with Eric Carle's work. However, what we see witness over and over again, is that after even just a little time playing with colorful tissues and glue, guests of all ages connect with their OWN inner artist.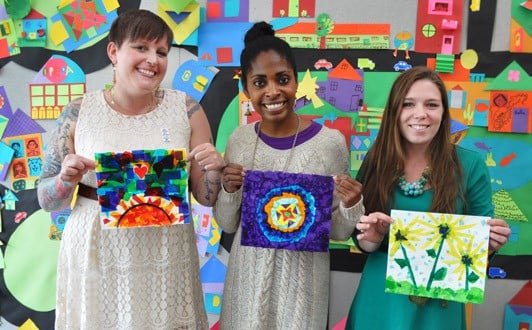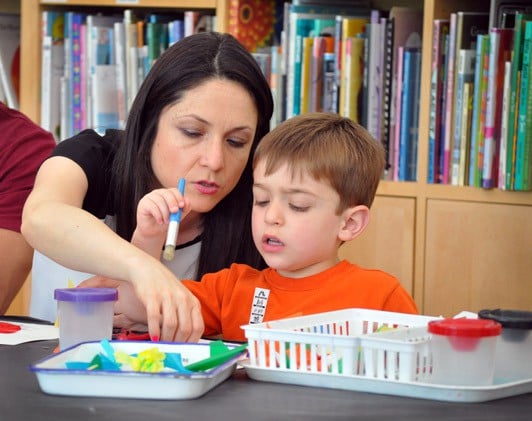 This exploration is great for all ages, but young children may need assistance from an adult to gather the materials. We always recommend supervising young children for safety reasons.

Materials Used in the Studio:
•    Watercolor or any heavyweight drawing paper to collage onto
•    Bleeding and non-bleeding tissue papers in various colors, found at the craft store
•    An inexpensive ½" paint brush
•    No-spill paint cups or yogurt cups
•    StayFlo or other brand liquid laundry starch (You can also use watered down white glue, but we love how easy liquid starch is to brush onto paper and clean up.)
•    Scissors (optional -- tearing is great too!)

Prepare: Gather all your supplies, figure out where you will dry wet work, and cover your workspace with a tablecloth or newsprint if you want. Warning! Tissues may blow away if you try to do this outside! Cut and Tear: Select a few colors of tissue paper you might like to use. Try "drawing" with your scissor -- that is, cutting shapes without first drawing them on the tissue.  You can also try tearing the tissue as another way to alter the tissue shape.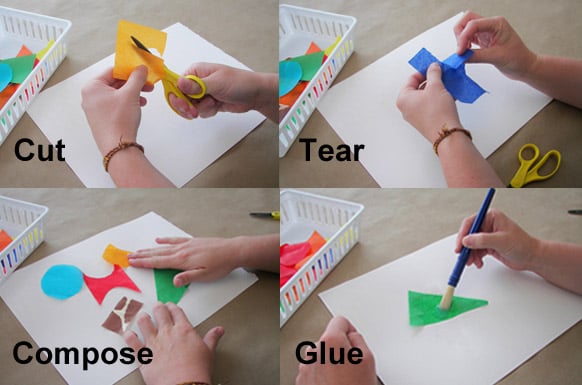 Compose: Have fun experimenting with the arrangement of shapes on your background paper. What happens when your child moves a few pieces or when you add or remove a few shapes? Do you and your child find yourself making pictures or just enjoying combining shapes and colors in interesting ways?

Glue: Brush a thin layer of starch onto your background paper and place the tissue in the starch.  Brush a thin coat of starch over the tissues if you want them to lay flat.

Explore: Change the shape of your collage: cut, tear, or fold the tissue papers or the background paper.

What happens when you layer the tissue paper on top of each other?

Depending on the kind of tissue paper you have, some might "bleed" their dye when wet. What more can you and your child discover about the materials?

Before or after exploring these materials, you might take a look at some of Eric Carle's picture books to see how he uses shape and color to tell a story.

You might use this technique to make your own book or tell your own story.  Try using gel pens, markers, colored pencils or other drawing tools on your dry collage.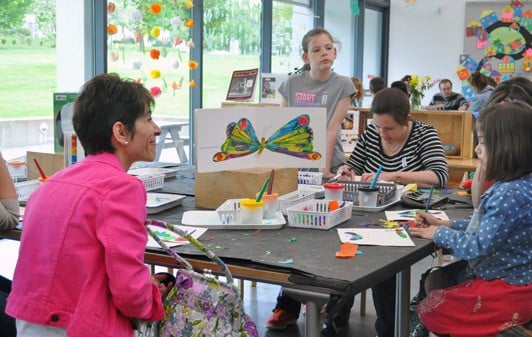 This exploration is also great for young children who are not yet at the stage of making representational work.  The sensory experience provided by the sticky liquid starch and crinkly tissue paper has engaged many toddlers (including my own!) in our Art Studio for years. If your children have an aversion to sticky hands, this activity might coax them into a little mess-making. You might also use a small piece of tape on the corners of the background paper to help prevent it from sliding as they work, if they'd rather not touch any of the glue.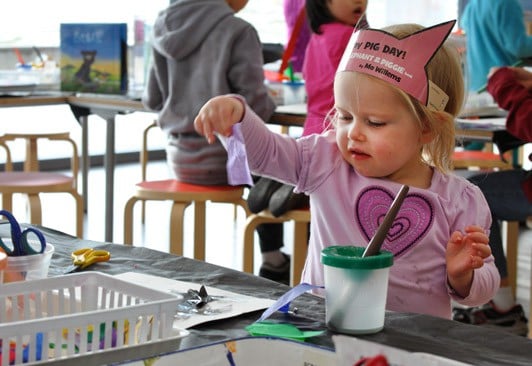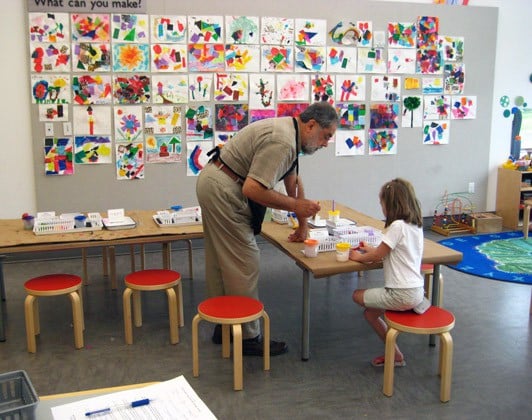 Learn more about how we use Tissue Paper Collage to help young people develop thinking skills in our post Helping Children Problem Solve.
Have fun making art together!

Making Art with Children is generously sponsored by the Massachusetts Educational Financing Authority.