Watercolor painting is a great medium to introduce to your child at a young age. This catchy little poem is a great way to share basic painting techniques with your eager young artist just learning how to use paints and a brush, or just in need of a refresher.

The poem goes:
Swish, Swish
Dab, Dab
Wiggle, Wiggle
What You'll Need
Watercolor paints
Containers for water (old yogurt containers, deli containers, etc.) 
Sponge
Paintbrushes
Watercolor paper or heavy-weight drawing paper
Water
What to Do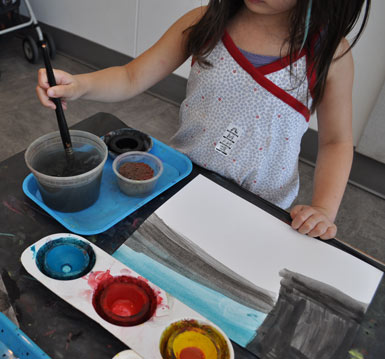 Step 1: Have your child "Swish, Swish" her brush in the water.
You can use recycled food containers to hold the water and large student-grade watercolor brushes.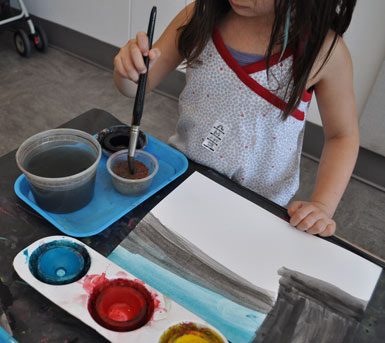 Step 2: Have your child "Dab, Dab" her brush on the sponge.
For the sponge, cut up round pieces of thick kitchen sponges. Keep them in single-serving applesauce cups instead of paper towels. To disinfect the sponges, you can occasionally run them through the top rack of a dishwasher in a mesh zip bag.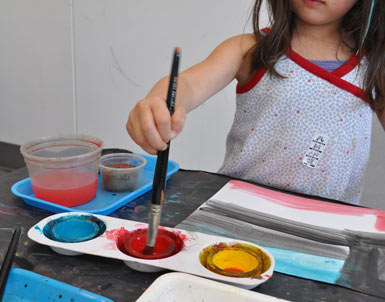 Step 3: Now, have your child "Wiggle, Wiggle" her brush in the paint.
Now your child's brush is ready to paint on paper. Any student-grade watercolor paper or heavy-weight drawing paper will work.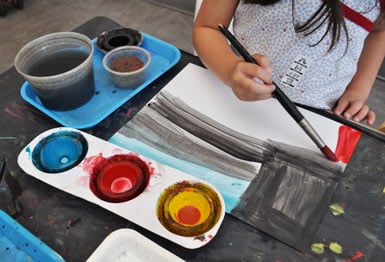 Remember the poem every time you want to switch to a different color. Colors can be mixed by overlapping them on the paper instead of mixing up the paints on the palette.

Then watch out. The pictures your child paints will be certain to inspire the rest of your day!