Telling a story or sharing artwork, thoughts, and ideas are powerful things even very young children can do. Making digital books is SO easy and helps give voice and audience to our children. Using the app Book Creator by Red Jumper is the simplest way to create digital books, even for not-yet-readers and writers. Children can add photos, videos, or drawings to enhance or tell their stories. It's easy enough for preschoolers, yet can be used by older students or adults. They may type words and add a recording of their story, or they can tell (speak) their stories and you can add the text for them. Imagine how excited children will be to publish their own books!
Book Creator is simple to use. Just start a new book and then select the + to add photos (both still images and video), text, a drawing made with the built-in pen tool, or sound. The camera allows capturing a photo or a video while making your books, too. To move anything you add around on your page, just simply touch it in its middle with one finger and drag it to where you want to place it. To resize something, touch it and then drag one of the "blue-dot corners" and the object/textbox/image/video will be resized. Book Creator automatically saves so you and your child don't need to remember that step. 
Books created with Book Creator may be exported as an ePub to read using the free iBooks app, as a video to post on the Web, or as a PDF to print or share by email, Airdrop, iCloud, DropBox, Box, or Google Drive.
Explore Book Creator together with your child. You may want to look through the short tutorial book to learn about the simple-to-use features. After learning how to use the app, you can then start your first book, maybe by creating a book of story ideas. Brainstorm topics, characters, and settings, and gather photos as story starters or story enhancers. You can also help your child collect photos of "favorites" and have him tell about why these things are his favorites. Imagine how excited your child will be to create a book using photos of his favorite drawings, images of favorite toys, foods, friends, places and more, all with his little voice explaining the images, telling the details and sharing the reasons why these are favorites. If you or your child is bilingual, add multiple "voiceovers" by recording the stories in multiple languages. Open your books in iBooks and have page-turning, interactive books made by you and your child that are loved by all you share them with.
Here are some questions to get you thinking (depending on your child's interest, age, and language abilities):
What story will you tell?
Let's take a picture of your painting and tell Auntie all about it in your book.
What things can we add to our book about the color green? Let's do it!
What characters or people do you need in your story?
What images do you need to create to illustrate your story?
Where does your story take place?
What comes first? Then what happens? What happens in the end?
How might (a character) feel if…?
What is something exciting that will happen in your story?
What can your readers learn from your book?
Shall we make up our own story?
Who shall we make a story for?
What would we like to show Grandma about our day today? We will add it to her book and send it to her on Saturday...
Remember, let your children tell their stories! Listen to what they are saying. Enjoy learning from their knowledge and view of the world!


There is also a free version of this app, but with it you can only make ONE book -- and we are pretty sure you and your child will want to make many books, so we suggest the full version of this app!)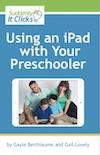 Tell about the stories you and your child create on the Scholastic Parents Facebook page, via email: Gail-­Gayle@SuddenlyitClicks.com, or tweet us at @suddenlyclicks.