Hit the road...or air...or sea. However you do it, this is a big time of year for getting out and exploring. For you, it might be a neighborhood park, the shore, family near or far, or an exotic location. In most cases your iPad, tablet, or smartphone can be a great addition to these adventures.
Travel can provide excellent opportunities to use fun apps with your children -- and this doesn't mean just passing a device back to the backseat of the car for children to use independently. What about sharing a game or a puzzle together while you are waiting for a bus or a train or while sitting on a plane, bus, or even a ferry? Did you see that key word, together? It's important to play together and talk with your child about the app. Apps for use when you are on the move (or waiting to get moving) may need to be quick to start and easy to pause or "finish later." They will usually have little or no audio since not being able to hear in a busy transit area can be frustrating.
Apps for Travel
Camera




Your device's camera is one of the very best travel apps. Remember to take pictures while you are exploring -- both selfies AND pictures of the sights are great conversation sparks on your way home...and if your child takes crooked pictures, or some with a little too much wiggle, no worries, they will STILL have a story to tell about them.
Practice taking photos with the built-in camera app at home before going on your adventure. Remember it's okay if the pictures aren't perfect, your child will still have a story to tell about them. Use the picture to create books and conversations when you get back home. (Most devices have a camera.)
Scribble Kid




Your youngster will love creating with this simple drawing app. Draw the mountains out the window, the puppy playing in the park, the favorite part of the day… the possibilities are endless! (iOS)                   
KiddyCarGames by Hooray Apps




You may remember playing the license plate game in the car with your parents, or maybe you played the alphabet game -- a scavenger hunt for letters or for a word for each letter in the alphabet. This app serves as the "record keeper" for a fun family game which will keep kids looking at the world going by. (iOS)
Puzzle Maker for Kids: Create Your Own Jigsaw Puzzles from Pictures




You and your child can easily make puzzles from pictures you take on your journey. You can have 9- to 24-piece puzzles with or without help from outlines and shadowed backgrounds.  For some little travelers, assembling puzzles together of things left behind, like a favorite stuffed animal or family pet, may be reassuring as well. (iOS, though there are similar apps for Kindle, Android, and other devices)
Be sure to check out our book Using an iPad with Your Preschooler for even more apps and ideas!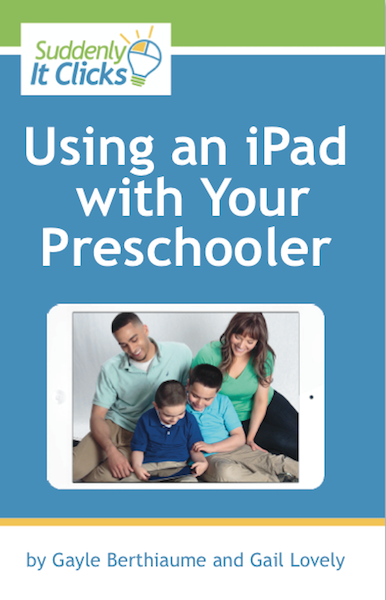 Share your favorite apps for preparing for your family adventures on the Scholastic Parents Facebook page, via email: Gail­Gayle@SuddenlyitClicks.com, or tweet us at @suddenlyclicks.