Toddler-friendly art exploration may be messy, but it's also a lot of fun. For this activity, start by reading a picture book with your child that features lots of circles in it. Then, have your child help you collect round objects from your recycling bin or around the house.
What You'll Need
Circular items from around the house (think: plastic caps and cups, paper towel tubes, etc.)
Washable paint - preferably watercolor (tubes) and white tempura paint
Paper
Containers for paint (cookie sheets, plastic plates, or takeout containers work well)
What to Do
Step 1: Go on a circle hunt around the house with your toddler. Look for ring-shaped items like plastic cups, the cap from your juice container, paper towel rolls, etc. Be creative! Just be sure not to choose any precious items, since you and your toddler will be dipping them in paint!
Step 2: Mix your paint. For this activity, use a mixture of about five parts diluted liquid watercolor paint and one to two parts white tempera paint. Adding the white increases the thickness and opacity of the paint so it will show up better on black paper. Mix the paints together in paper cups, then have your toddler help you pour each color into its own tray. You'll want to add just enough paint to cover the bottom.
 

Note: This mixture may result in some splatters of paint across your toddler's paper. But the mess is the part of the activity's point!
If your paint is thick, water it down a bit or just use a brush to create a thin layer in your tray. You might even try adding a little dish soap to encourage runny paint to stretch across the cylinders like the ones below.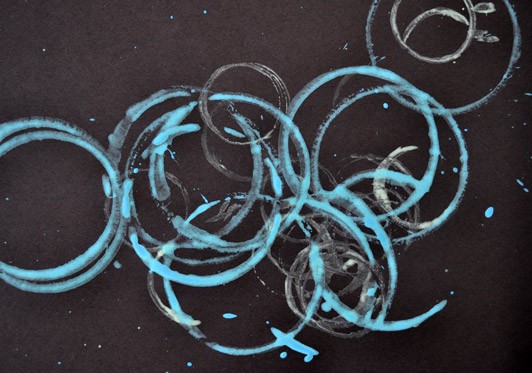 Step 3: Have your child dip the circular items in paint, then press them on his or her paper. Feel free to offer just a single color of paint with a few different objects to stamp. Limiting the color options will help keep the emphasis on exploring the shapes and the action of stamping. Treat this activity as a fun experiment and there is no way you can get it wrong!

Featured Photo Credit: © djedzura/Thinkstock