I was in utter disbelief when I saw the cover of one of Klutz Books' newest titles: Make Your Own Mini Erasers. I thought to myself, Make erasers? How on earth are the kids going to make erasers?
But sure enough, after school one afternoon when the homework list was low, Maddy and Owen sat down together, opened the book, and started reading.
Before I realized it, they had formed tons of teeny erasers out of "magical, moldable, bakeable eraser clay." They created the erasers, and I baked them, and in one short evening, the kids each had a handful of cool, new erasers to add to their pencil cases at school the next day.
Make Your Own Mini Erasers, like most Klutz publications, contains everything readers need to complete the given craft. In this case, the book, eight colors of eraser clay, a pencil, a clay shaping tool, and papercraft displays are all included.
Making mini erasers is easy:

Step 1: Make teeny erasers. Follow directions to create just about anything you can imagine: animals, foods, designs, you name it.

Step 2: Bake the erasers. Everyone's oven is different, so you're encouraged to bake a sample eraser first to make sure it doesn't melt. Bake at 250°F or (120°C) from 5 to 30 minutes. That's quite a range, so keep a close eye! Our erasers took 21 minutes exactly.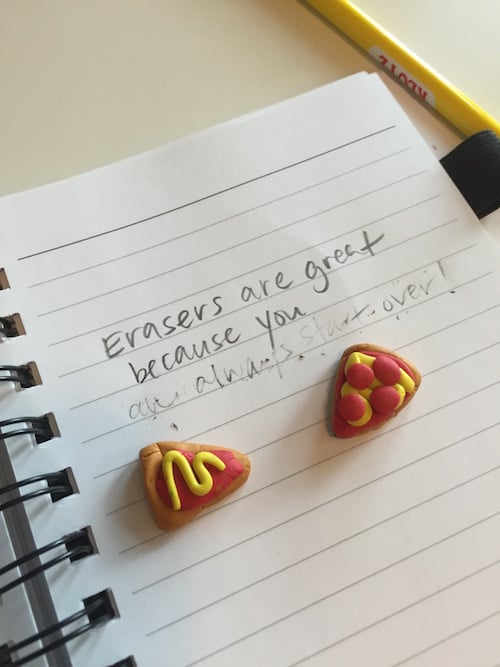 Step 3: Erase! (Or take to school and show off to your friends!)


We made a bunch of erasers and cannot wait to make more!
Share your thoughts with us on the Scholastic Parents Facebook page, or find Amy on Twitter, @teachmama, and let's continue the conversation!
FYI: Amy Mascott was given the Make Your Own Mini Erasers book to read and try with her children. It was a hit. All opinions belong solely to Amy Mascott and are influenced only by her experience as a parent and educator and her eraser-making tweens.
----
Check out bloggers Amy Mascott and Allie McDonald's book, Raising a Rock-Star Reader: 75 Quick Tips for Helping Your Child Develop a Lifelong Love for Reading. Get expert advice and learn new strategies for your young readers.