If your children enjoy art and nature, they've undoubtedly made using natural materials like flowers, leaves, sand. But how many of these projects were made without any other materials, and made outside, to stay outside? If you're enticed, read on! 

Here in the Art Studio, two of our main goals are for our students and guests to see materials in new ways, and for them to leave The Carle Museum knowing those materials better than they did before. One of the best ways to do this is introducing them to artists who work with nature and naturally found materials. One of the most remarkable artists to start with is Andy Goldsworthy.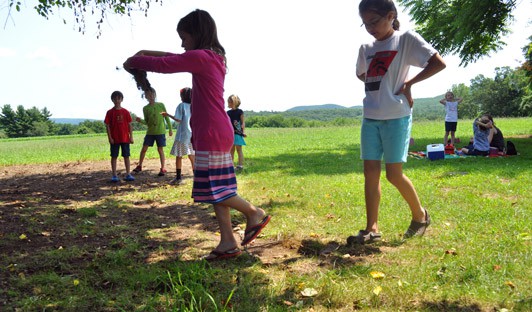 A great way to introduce your kids to Goldsworthy is with his DVD, Andy Goldsworthy's Rivers and Tides, where he shows videos of some of his site-specific natural artworks and talks about how they are created in consideration of, and impacted by, time and weather. He talks about listening to his natural materials, figuring out what they can and can't do. He gets to know a material better by having to make and remake a piece over and over if it topples as he works. Since Goldsworthy's creations are natural and exist in nature, their place in the cyle of life around them is an equally important part of the work.

(NOTE: Be prepared for some of your children to show varying levels of interest in the DVD.) Whether or not you watch the video, show your kids some of Godlsworthy art just by doing searches for images online. 


After introducing them to Goldsworthy, we took the students out to a magical little spot between the staff parking lot and an open field. There, nestled between old apple trees and various local bushes, a girl spotted a big pile of sticks and immediately made a connection to what they had just seen. Her interest sparked someone else's, and before we knew it, everyone was either individually or collaboratively creating with the sticks in the area in which they were found. 
They were experimenting with balance, scale, point of view, light, shadow, and texture. Great questions to ask your kids when doing the same are: What's going on here? What do you see that makes you say that? What more can you find? These questions are a part of Visual Thinking Strategies, a method we use within The Carle's approach to education.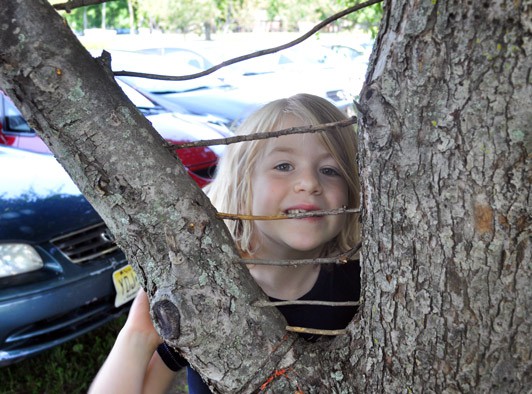 So, go outside! Enjoy nature's palette in your next art project. Here's how it might go: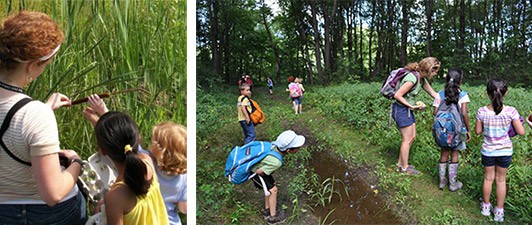 Have your child carefully observe whatever natural materials are around him — he can observe on his own, or alongside siblings and friends — but always make sure he stays safe while making observations, and also keeps the flora and fauna safe, too.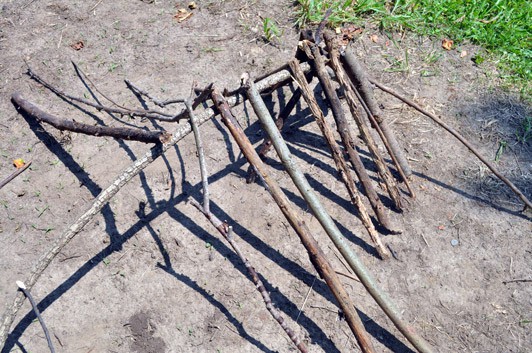 Tell your child to study materials in nature and then think about how she might draw attention to something interesting about them. Have her create something she can observe and document through photos or drawings over time. Children love to revisit work they created outside.

Have your children experiment with how and where things are placed. Encourage them to make a mental or written list of their observations. Talk to them about what they notice happening and why. For instance, in above sculpture, they could discuss how the sticks create their own shape and different kinds of shadows, and how the sun and sky's movement changes the appearance of both. 
Interested in further research on the importance of the natural world in a child's life? Here are a few books you might look for:  
I Love Dirt!: 52 Activities to Help You and Your Kids Discover the Wonders of Nature by Jennifer Ward
Last Child in the Woods: Saving Our Children From Nature-Deficit Disorder by Richard Louv
Share how you and your family get inspiration from nature on the Scholastic Parents Facebook page.