This simple, toddler-friendly activity is inspired by other paint dropper explorations I've seen on Pinterest, and the children's book Rain Rain Rivers by Uri Schulevitz. Painting with small, plastic droppers (also sometimes referred to as pipettes) at an easel gives your kids the chance to learn about spontaneous color mixing while also developing the finger muscles needed for an efficient pencil grasp. Additionally, working on a vertical surface helps develop their fine motor skills by exercising the muscles of the wrist. So — all of this — and it's lot fun, too!
What You'll Need
clipboard or slanted acrylic sign holder 
book stand
watercolor or heavyweight drawing paper
cups
diluted liquid watercolor paint (or, use watered-down tempura paint)
transparent plastic droppers (or pipettes)
paper towels (to clean up messes!)
How to Do the Activity
Step 1: Set up vertical painting stations — you'll want to include all the items listed above. Use no-spill cups (or disposable plastic cups) and fill them up with one-third paint. (You can use diluted liquid watercolor pant, watered-down tempura paint, or choose food dye mixed with water. Note that the food dye isn't washable, so that could cause some clean-up challenges!) Have plenty of paper towels for rogue drips of paint.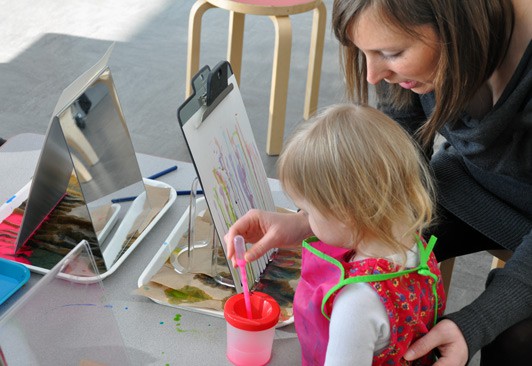 Step 2: Show your child how to pinch and squeeze the dropper and then release it into the paint cup to fill it up.

Step 3: Let your toddler go to town using the dropper on the paper!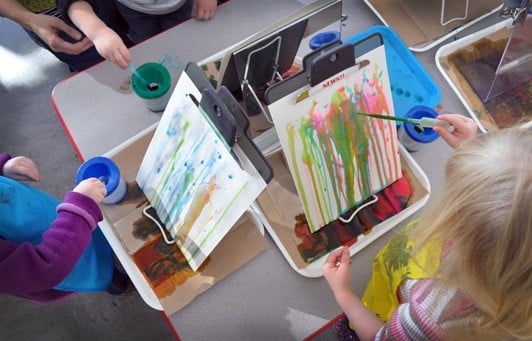 Step 4: Stand back and enjoy! Your child is likely to get quite absorbed in watching his paint drip down the paper. You may notice a quiet, meditative feeling in the air.

I'm not one to quickly label doing art as a stress-relieving, but honestly, try this yourself and you'll be hooked. When I made my own drip paintings, I became totally immersed in watching the colors mix and slide down my paper in unexpected ways. I also did this exploration with a group of early childhood educators and they were deeply satisfied; conversing, wondering aloud, laughing, and quietly pondering as they worked. It was a privilege to witness!
What are your favorite ways to get your toddler to a thoughtful, creative state? Share your recommendations on the Scholastic Parents Facebook page.