Transform an ordinary day into an extraordinary one by combining Diet Coke and Mentos to create a spectacular soda fountain. Kids love watching (and doing) this fun, easy chemical reaction that combines two delicious ingredients to create a geyser of carbon dioxide bubbles.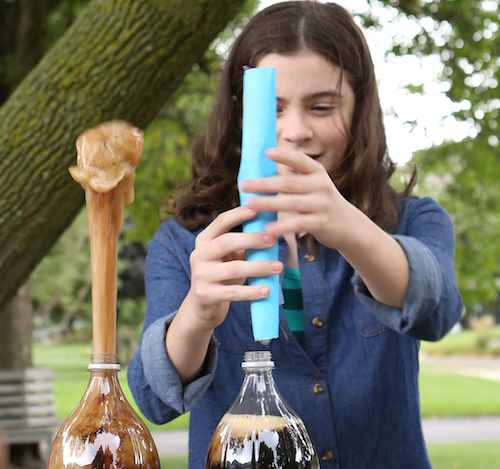 Hint: This is definitely an outdoor experiment — it can get messy. Eye protection is recommended. Pick up some extra Mentos and Diet Coke, since your kids will want to do it again and again.
What You'll Need
a two liter bottle of Diet Coke
2 rolls of Mentos mints
1 piece of 8x10 inch paper, like construction paper
tape
How to Create the Geyser
Step 1:  Remove the lid from the Diet Coke and set it the bottle of soda on a flat surface.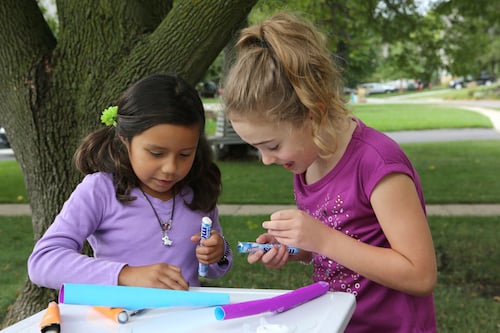 Step 2: Roll the paper into a tube around a pack of Mentos mints, tape it into place and pull it off of the roll of mints.
Step 3: Hold your finger over one end of the paper tube and have your child fill it up with Mentos mints. (It will probably hold a pack and a half of mints.) Check that the paper is unbent, so that the mints will easily fall from the end of the tube when you remove your finger.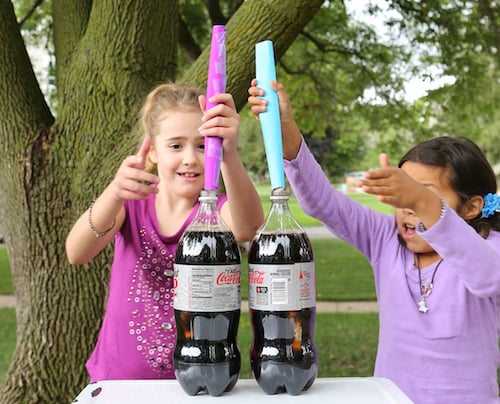 Step 4: Hold the tube of mints over the mouth of the bottle. (Older kids can do it themselves.) Do a count down and when you shout "one," quickly dump the mints into the bottle and stand back.