One subject most kids enjoy learning about is animals. Picture books with animal characters are firm favorites, and non-fiction books for children about animals are very popular. Kids also love to observe animals, in real life visits to the zoo perhaps, or via some of the well-made documentaries available. Children with access to companion animals learn lots about the special joy such animals bring to our lives.

There are fascinating websites devoted to helping us learn about animals. Here are some you might like to explore with your kids:

ZooBorns
Children and adults alike can't help grinning delightedly when they see baby animals. Help your kids explore this website, devoted to the newest, cutest baby animals from the world's accredited zoos and aquariums. It's a great place to play conversation games like choosing the cutest or deciding on a fantasy pet. It might also make a good jumping off point for research on animals or a school project.

National Geographic and National Geographic Kids
Both websites offer stacks of resources on animals, including videos. Young children will benefit from your help with some of the reading, and there'll be lots of opportunities for you to discuss what you learn.

Australia's ABC Splash
This is a website where we can easily lose track of time! As well as lots of general educational resources, including videos, interactive games and digi-books, it offers helpful materials on animals like this one on Remarkable Animal and Plant Life Cycles.

Walking With Dinosaurs
Pitched more towards older children, nevertheless young dinosaur fans will adore looking at the images and videos about dinosaurs available on this BBC site. Moms and dads can help youngsters read some of the fascinating fact sheets seen by clicking on images. There are lots more BBC series previewed on this site, including Hidden Kingdoms, which shows the world from the perspective of smaller creatures like insects.

World Wildlife Fund
As well as discovering more about endangered species and the important work the WWF does, this website has lots of great educational materials about animals. Check out tabs like Species, browse the excellent close-up images, and find the answers to questions like Why Are Sloths Slow?

ARKive
I wrote about ARKive back in 2010, and it's still one of my favorite web spaces. Again, children will get more from this site if their parents spend time discussing and sharing it with them. You can browse by topics, species, habitats etc., but make sure to check out the education section. I love that it has materials suitable even for 5- to 7-year-olds, with children encouraged to learn through activities like making animal masks.

Kids Planet
If some of the websites above seem a little too serious for your kids, help them visit Kids Planet. As well as finding some excellent fact sheets, here they can play animal-themed games, like Who Am I, where they need to identify animal sounds.  

Switch Zoo
Switch Zoo is another site where the learning is slightly disguised by fun! Children can play animal games, create their own wacky new animals, even solve jigsaw puzzles. Can't you just imagine the fun kids will have making a Great Horned Zebrel, pictured below, and imagining what it might eat, its habitat and special features?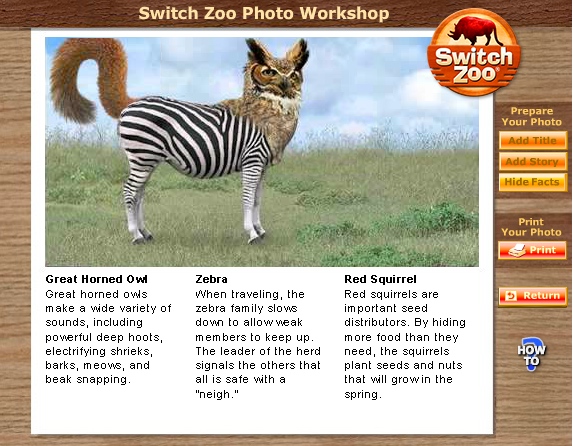 Sharing websites like these with our kids is a wonderful way to demonstrate safe online behavior, as well as our own enthusiasm for learning. Follow up with a visit to your local library or zoo to extend the experience. Searching publisher websites will bring an amazing array of animal-themed bookish goodness, where you're sure to find resources just right for your children.

What are some favorite activities related to animals you include in family life?  Let us know on the Scholastic Parents Facebook page.