Editor's note: This post was originally published July 30, 2014.
I'm always looking for new ways to spark my boys' creativity, and I like finding new tools they can experiment with artistically. While we do lots of hands-on building, painting, model making, and art/constructing at home, I also troll the iTunes store for unique apps that provide artistic expression in different mediums, too.  While this is not an exhaustive list of apps we've played with, the three apps below are favorites in our house. From found object art assembly to watercolors, these apps are sure bets for kids who love open-ended, creative play. These apps have been revisited over and over again in our house because there is no "end" to what they can produce and they definitely bring out kids' inner Picasso and Monet!  I hope you enjoy these as much as we do.
Happy creating!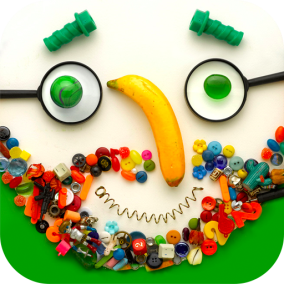 Faces iMake – Right Brain Creativity

This is a fantastically unique creativity app that allows you to use common objects to make a face or picture. Using an existing image within the app (some of them famous paintings like the Mona Lisa), or your own photo, you can add objects and turn, resize, or copy them multiple times for making layers or patterns.  Make a nose out of a banana, hair from multiple flowers or a series of monkeys, or an animal out of lace and string and spaghetti. The possibilities are endless. Great for sequencing and fine motor skills practice. This app inspires a new way of looking at common objects and lets kids transform them into entirely new works of art. It definitely inspires "out-of-the -box" thinking and is a great way to gather ideas for art projects you can do at home with common objects you already have around the house. Oodles of fun.
Here are some samples we created: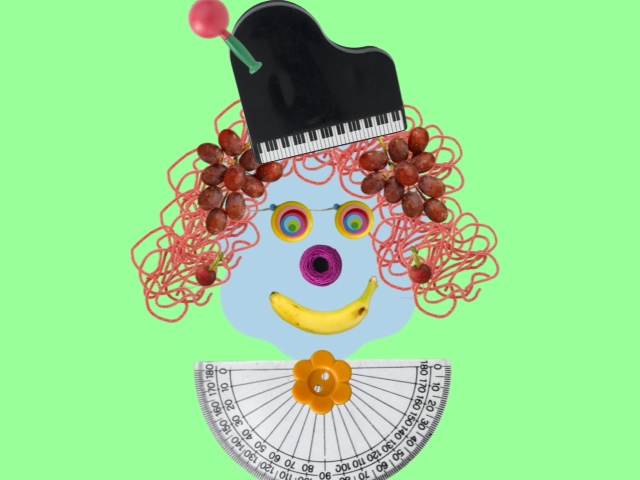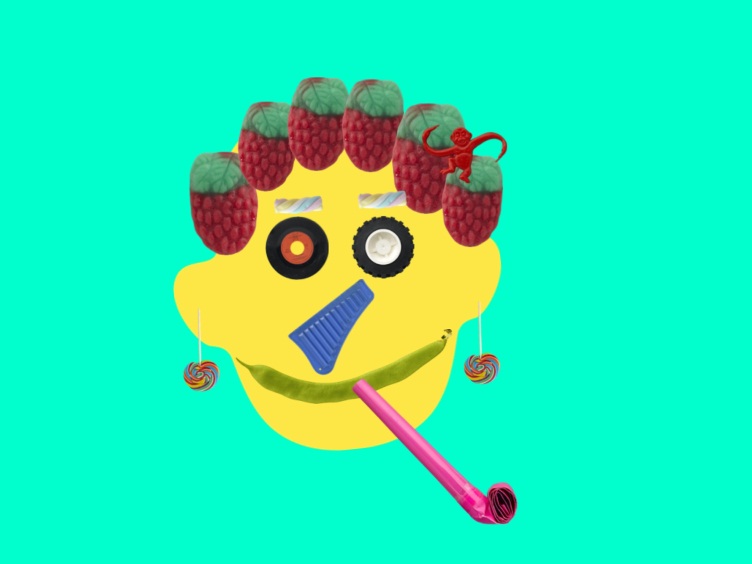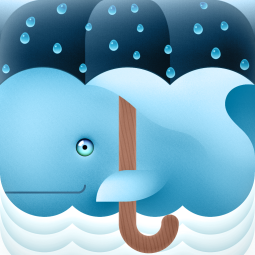 Waterlogue
 
This app is a favorite in our house. The app transforms photos we've taken or images we've scanned into watercolor masterpieces. There are a number of different modes that you can play with to add dimension, illuminate, or make the watercolor bolder or softer. It's incredibly fun to see what highly photo realistic images look like in watercolor style – it's an entirely different image. They're beautiful! In addition to photos, it's fun to find abstract images or scans of patterns and fabrics and then import those images into the Waterlogue app and create a watercolor.  Kids love seeing the watercolor come to life and love observing the differences between the artistic media. We've printed and framed some of our creations.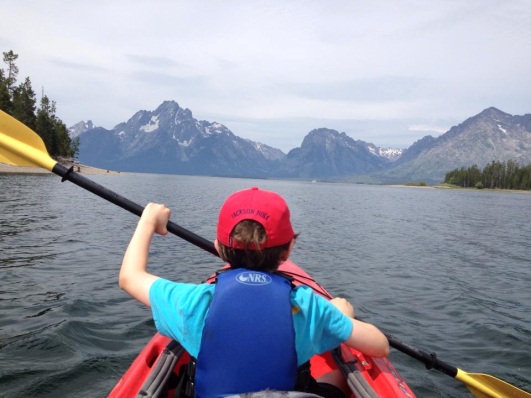 Photo of my son kayaking.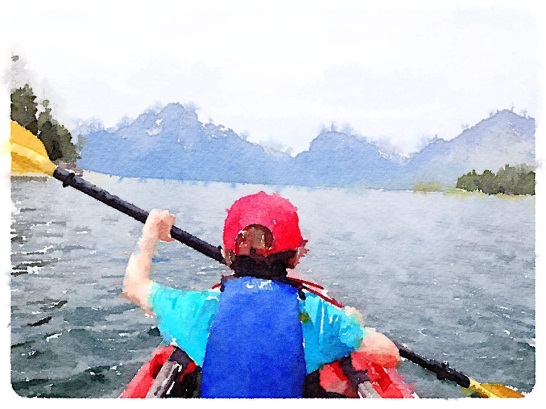 Watercolor version from Waterlogue.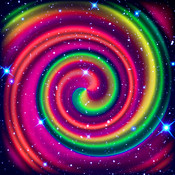 Spin Art App 

I'm a huge fan of spin art. We've done so many projects at home using our tabletop spin art machine and splatting paints to make unique designs – and it always produces surprises and is a ton of fun. So, when I discovered the Spin Art app, I had to try it out and see how it compared. My boys and I were addicted!! Just like the actual spin art machine, this app allows you to splat paint colors on a spinner and stop and start the spinning whenever you want. I love that you can play with the thickness of the paint splats and the speed of the spinner so that you can experiment with different line weights, which is much harder to do with the tabletop/tactile spin art machine. It's extremely easy to change and add multiple colors and the app offers a few different "paper" shapes to spin as well. It's addicting, simple, and fun and the results are eye-popping and beautiful! It's not a replacement for the tabletop spinner and the fun of splashing paints into a spinning machine – but spin art is fun in a digital medium, too, and the results are equally worth it.
Here are some samples we created: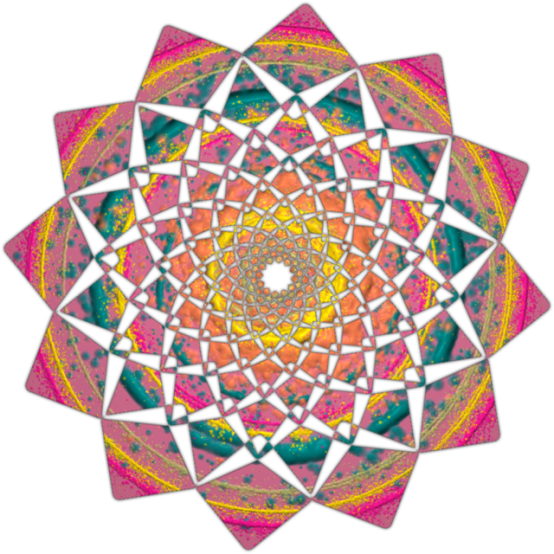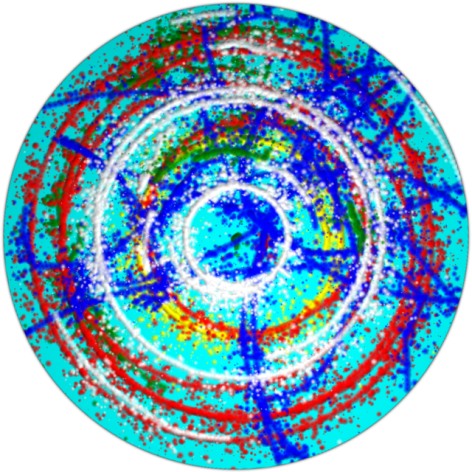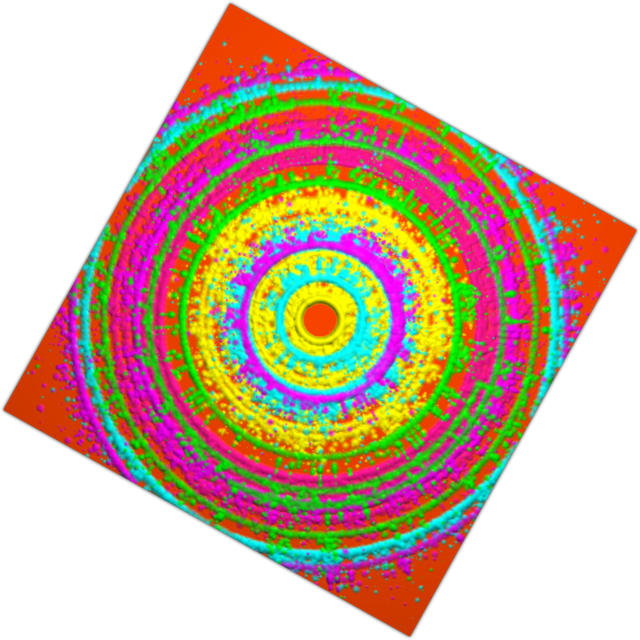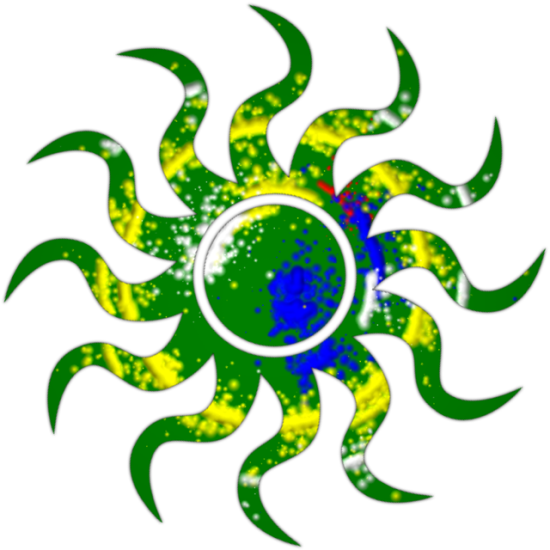 What apps do you and your kids like for tapping into creativity, storytelling, and imaginative play? Share your suggestions on the Scholastic Parents Facebook page.