A generation is a group of people born around the same time who have shared life experiences. How do history and culture shape a generation, and how do generations shape our identities? Your child has been exploring and researching generational differences and thinking critically about how these differences shape us. Use the below family activities and keep the learning and exploring going at home.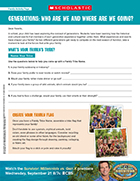 Share this video of Jeff Probst to inspire your children before their big interview. 
[brightcove:5106493737001]
Watch the trailer for this upcoming season of Survivor: Millenials vs. Gen X!
[brightcove:5106493734001]