We had an expert panel choose the latest and greatest children's reading and book apps. Here are their picks!
Meet Our Expert Reviewers:
Really Excellent E-reading Apps
Endless Alphabet
Uses adorable monsters to teach kids vocab words. Android and iOS, Originator $7. Ages 2+

Nosy Crow: The Three Little Pigs
Refreshes the classic fairy tale by adding cool interactive twists. iOS, Nosy Crow Limited $5. Ages 6+

Barefoot World Atlas
Helps kids explore continents and oceans, on a 3-D globe. iOS and Android, Touch Press LLP $5. Ages 9+

Pango Free
Lets readers drive the story by shaking and touching the characters. Android and iOS, Studio Pango SAS free. Ages 3+

Toontastic: School Edition
Allows little ones to draw and share their own cartoons. iOS, Launchpad Toys $10. Ages 6+

Encyclopedia Brittanica Kids
Puts info (on topics like space) in video and article form. Android and iOS, Encyclopaedia Britannica $5. Ages 8+
PlayTales
Looking to introduce your little one to a foreign language? PlayTales is the app for you! Each classic or just-released book is available in eight languages and offers interactive options as well as original illustrations. For iOS and Android. Genera Kids, free. Books $1–$4. Ages 1 to 8.
MeeGenius

Turn any time into storytime with 700+ titles from well-known and brand-new authors. Your child can hear the story read aloud (with follow-along highlighting for word recognition) or read it to herself. For iOS and Android. MeeGenius, free. Books $1–$5. Ages 2 to 8.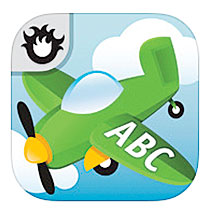 AlphaTots Alphabet3.
Turns ABCs into action verbs to up the fun: Build a robot for B! Dig a treasure for D! AlphaTots Alphabet for iOS, $3. AlphaTots Alphabet for Android, $3. Ages 3 and up.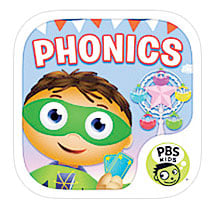 Super Why Phonics Fair
Builds skills with a series of carnival games, like a spelling wheel that matches letters and sounds. For iOS. Super Why Phonics Fair, $3. Ages 3 to 6.
Hop On Pop

A favorite for learning to read, the Seussian rhyme comes with highlighted text for better word recognition and the ability to tap objects and see the word. Professional audio narration adds to the fun. For iOS and Android. Oceanhouse Media, $2–$4. Ages 2 to 6.
Little Red Riding Hood
The familiar tale is new again with "great sound effects, gorgeous music, and whimsical illustrations," says Kluver. Kids get in on the fun by choosing from a variety of paths that change how the story ends. For iOS. Nosy Crow, $6. Ages 4 and up.
Spatter & Spark Pro

Join artsy porcupine Spatter and his pal, the handy fox Spark, as they paint, create, assemble, and invent together. We love the vivid textured digital illustrations by Luciana Navarro Powell. For iOS. Polk Street, $1. Ages 4 to 6. 
Top-Notch Writing Tools
Don't Let The Pigeon Run This App!
Create — and draw — your own Pigeon stories! Answer the bus driver's questions and then shake the pigeon (voiced by Mo Willems himself), and your answers will become part of the story. For iOS. Disney, $7. Ages 3 and up.
Lists for Writers
Great to turn to for inspiration for any part of the story you're telling — character names, places, myths and magic, specific words, and more. Plus, choose from different kinds of plots, conflict types, and issues. For iOS and Android. Thinkamingo, $2–$3. Ages 8 and up
This is My Story (and I'm Sticking to It)
Kids can improve early writing skills by seeing and hearing vocab words as they fill them into their own original stories that use simple sentence structure. Great for early readers and writers. For iOS. Gramercy Consultants, $2. Ages 4 and up.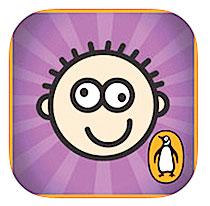 Mad Libs 
Lets you replace key words in sentences — and then giggle over your kiddo's creation! For iOS. Mad Libs, free. Ages 4 and up.