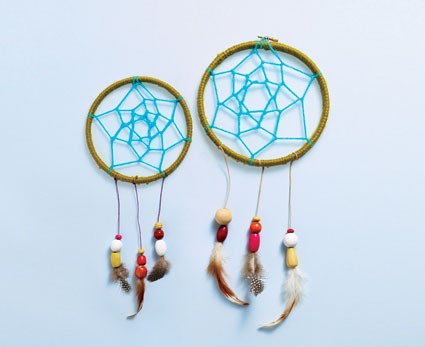 Dream Catchers
This craft is sure to capture your kids' imaginations! Glue one end of some thick yarn to the outside of an embroidery hoop 8" in diameter. Wrap the yarn all around the hoop, then glue the loose end to secure. Next, wrap a thinner piece of yarn at six points around the hoop to make a star, pulling each loop tightly as you go. Repeat the process, this time making loops in the center of each line. Continue clockwise two or three times; tie knot. Glue feathers to thin elastic, then thread on colorful wood beads. Hang strands from the hoop at staggered heights.
Goody Jar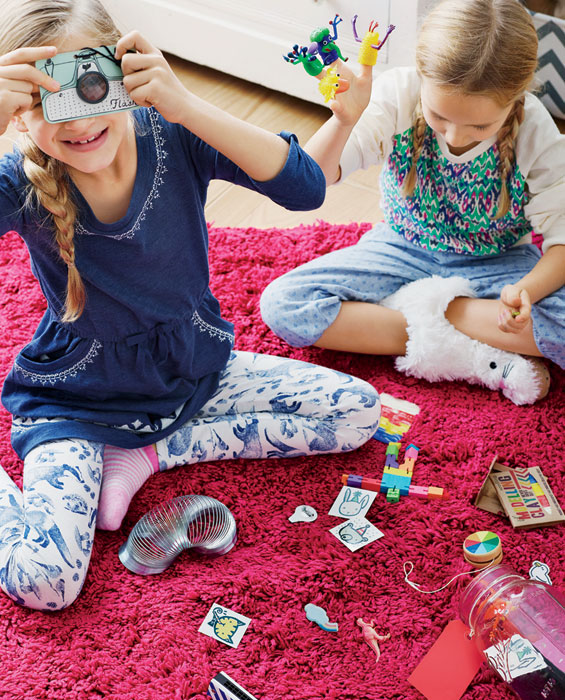 Stash little toys in a jar that you only bust out on dreary afternoons. Finger puppets ($5 for 4, Mcphee.com), kaleidoscopes ($5, Shopseedling.com), and temp tattoos ($8 for 12, Weegallery.com) feel special as uncommon treats.
PLUS: RAINY DAY OUTDOOR ACTIVITIES
Felt Arrows
These simple and sweet DIYs hit the bull's-eye. Cut triangles from colorful felt. Then, cut out pennant shapes and snip the long sides into a feathery fringe. Adhere felt to twigs with tacky fabric glue. Cinch base with contrasting bakers' twine to make it easy for kids to string the arrows up from whatever they please!
PLUS: 7 EASY AND MESS-FREE SCIENCE EXPERIMENTS
Beary Cute Vase
Pour acrylic paint in a honey bottle; swirl until evenly coated. When dry, draw a face on the outside with a marker, then fill with flowers!
Photo Credit: Alexandra Grablewski