9. Take Time to Smell the Flowers?
The kids not so interested in growing produce? A flower garden is a lot more colorful (and the scents sweeter, too). It's an especially fun adventure if you pick the right posies. For something straight out of a Dr. Seuss book, purchase Allium Purple Sensation bulbs from your local garden supply store. When in bloom, these colorful flowers resemble purple lollipops and will grow to be up to 3 feet tall! Another cheery, fast-growing option: sunflowers. Some varieties, like the Mammoth Russian, can grow up to 10 feet high. Your kids will love feeling teeny-tiny by comparison. If you have room in your yard, plant your gigantic flora in a circle formation — perfect for a magical hideaway. Another idea: Grow a "rainbow garden" with sections for flowers in each color in the spectrum.

Put your favorite flowers on display with our pressed flower printable.

10. Get Printing! ?
This project is perfect to do outside—where paint splatters and spills can be hosed away. To get started, slice a few apples, oranges, even cucumbers in half. Have the kids brush on or dip them in paint, then use them as stamps to create cool patterns. It's especially fun to create customized t-shirts or tote bags, so just swap in some fabric paint. They'll be so proud to show off their handiwork.

Practice your patterns with our helpful printable.

11. Make Leaf Creatures ?
Here's a sweet craft for spring, summer, or fall. Twigs make perfect arms and legs for little leaf creatures. Explore a nearby park, playground, or just the sidewalks on your block to search for larger leaves and sturdy, but short, twigs. Use craft glue to attach the twigs to the leaves. Attach googly eyes and sketch a face with a marker.

Create your own leaf creature with our helpful templates.

12. Take a Hike!
?Hiking with the kids doesn't have to be strenuous or require special equipment. It can be as simple as a leisurely walk through the woods near home. Just remember to keep the (realistic) abilities of your youngest hiker in mind when choosing the path. Allow plenty of time—you'll be making frequent stops to admire bugs and sniff interesting-looking flowers and plants! Here are some age-by-age ideas to make the most of your hike. ?
Ages 3 to 5: Play I Spy Make up simple rhymes and songs as you walk, and examine things (leaves, flowers, rocks) up close with a magnifying glass.?
Ages 6 to 7: Use your senses Have your child close her eyes until she hears three different sounds. Then ask her to describe them and guess where they came from. Try that one more time, but this time asking, "What do you smell?" ?
Ages 8 to 10: Talk outdoor manners Teach your kids to take nothing from the woods but memories and pictures, to leave no trash, and to observe, not disturb, the wildlife. Challenge them to come up with other ways to show respect for the earth as you hike.?
Ages 11 to 13: Take along a field guide and have your kids use it to identify the types of birds, plants, bugs, and other wildlife you see on your hike. Show your children the basics of reading a trail map, including direction orientation. Let them help you navigate.
Keep track of your discoveries with our helpful hiking checklist.

13. Be Prepared to Play Anytime, Anywhere ?
You've got an emergency bag in your car, so why not add a sports emergency stash? Toss in a Frisbee (perfect for impromptu games of Frisbee golf a the park); inflatable beach balls (they can double as volleyballs), and extra baseball mitts and balls (base runner, anyone?). Even if you're just in the yard, you'll know just where to find what you need—just remember to put it back!

Try out frisbee golf score card for your next pick up game.

14. Try Out a Bug Box ?
Whether your child is fascinated or freaked out by bugs, this is the perfect post-hike or -picnic activity: Cut a rectangular opening in the lid of a cardboard shoebox and tape clear plastic wrap over it. Poke small holes in the box, then add water-sprinkled dirt and twigs inside. Gently capture a bug and place it inside. The kids will learn how to observe the natural world (even the most bug-phobic child can relax enough to watch from a safe distance). For a little extra learning, go online to discover how that bug fits into the food chain. Then, of course, release it into your yard and watch it amble off.

Help your child remember his favorite instects with our printable bug log.

15. Wish Upon a Star ?
Star-gazing is most dramatic on a camping trip, far away from city lights. But backyard campouts can be just as successful (and easier to pull off). Download one of the many astronomy apps geared to kids, such as The Night Sky, and pick up a pair of 10x50 binoculars, which magnify stars well and are easier for kids to hold steady than a telescope. Once you're out there with the right gear, what's next? Think of the galaxy as a game of connect-the-dots; challenge kids to find constellations. The Big Dipper is usually the easiest to spot. Afterwards, read the legends about common ones, like Orion and Perseus, to help kids remember what they've seen.

Of course, stars are always easier to spot with the scent of toasted marshmallows wafting through the breeze. No need to build a fire; your barbecue will do the job just as well.
Make a map of the night sky to keep track of your favorite constellations.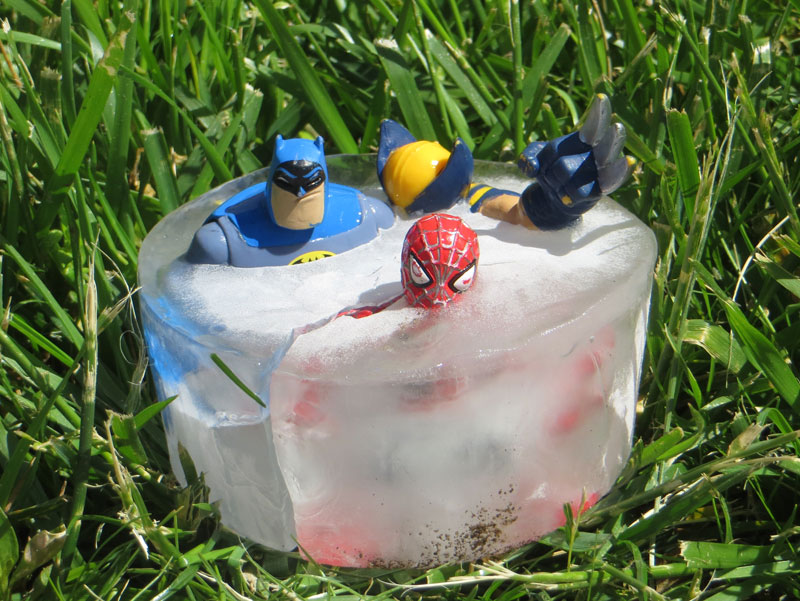 16. Free the Heroes! ?
On a hot summer day, it can be hard to get kids off the couch in your air-conditioned den. What you need is a fun, competitive game—with water. Freeze some action figures in small bowls of ice — you should have as many ice blocks as you have players. Upend the ice onto the grass and hand out water guns filled with water. Count down to start, then have the kids fire away at their respective ice blocks. Whoever defrosts her toy first wins. (Keep a bucket of water around for easy refills.)

Now that your hero is free, use our printable to draw what he'll do next!

But Wait, We Have Other Outdoor Activities for You to try: 
Activities 1 - 8
Activities 17 - 25
Photo Credit: Gretchen Easton, Elizabeth Shaw