Pecan Pie Ships
Ingredients
1 14-oz box refrigerated pie crusts (2 rounds)
½ stick unsalted butter, melted
1 cup light brown sugar
½ cup light corn syrup
1 tsp pure vanilla extract
¼ tsp salt
2 large eggs
1 cup roughly chopped pecans
½ cup mini chocolate chips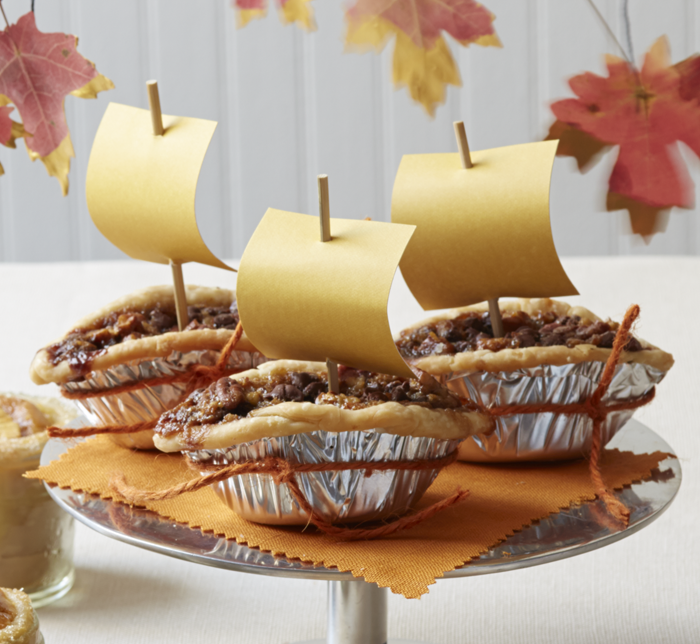 Directions
Preheat oven to 350?F. Leaving a ¼" rim, cut out muffin cups from two 6-cup foil muffin pans so you have 12 individual cups. Carefully fold down rim and pinch two opposite sides to create a boat shape.
Cut each refrigerated crust into 6 wedges, then use each wedge to line a tin, tearing and repositioning the dough as needed. Refrigerate tins while you prepare the filling.
Mix together butter, brown sugar, corn syrup, vanilla, and salt in a large bowl. Add eggs and mix well. Stir in pecans and chocolate chips.
Pour the filling into the pie tins, nearly to the top. Bake 35 minutes, or until set.
Make the sails: Cut 2 ½" squares from construction paper. Poke a skewer through the paper and insert into the baked pies. Tie orange twine or string around the tins.
Pumpkin Pie in a Jar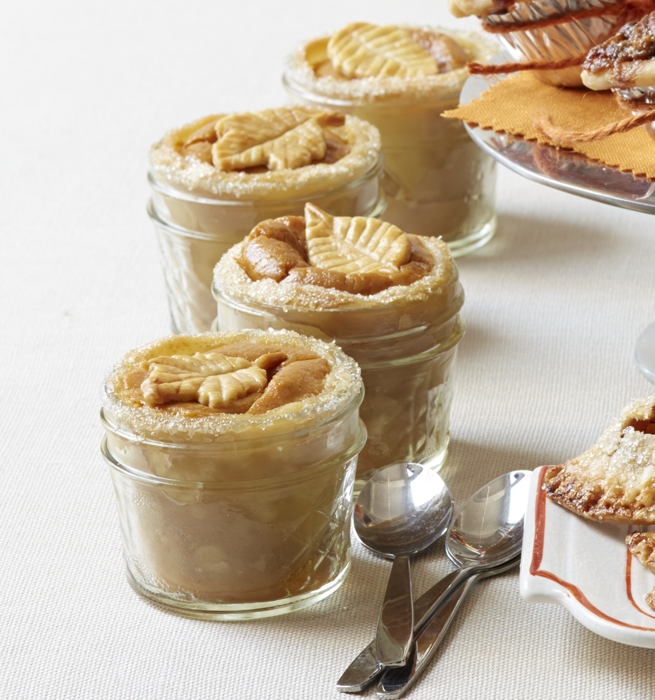 Ingredients
1 14-oz box refrigerated pie crusts (2 rounds)
2 large eggs plus
1 egg white
1 15-oz can pumpkin puree
1 14-oz can condensed milk
1 tsp cinnamon
½ tsp ground ginger
1 tsp pure vanilla extract
Sugar, for sprinkling
Directions
Preheat oven to 350?F. Tear three-quarters of the dough into pieces and press into eight 4-oz glass jars to completely cover. Cut out shapes from remaining dough using small cookie cutters. Refrigerate jars and dough shapes while you prepare the filling.
Lightly beat 2 eggs in a large bowl. Stir in pumpkin, condensed milk, cinnamon, ginger, and vanilla. Arrange jars on a baking sheet. Pour filling into prepared jars.
Beat egg white with 1 Tbsp water in a small bowl. Brush dough shapes with egg wash and sprinkle with sugar. Place cutouts on top of filling; transfer to oven. Bake until filling is set and crust is golden brown, about 35 minutes.
Apple-Blackberry Hand Pies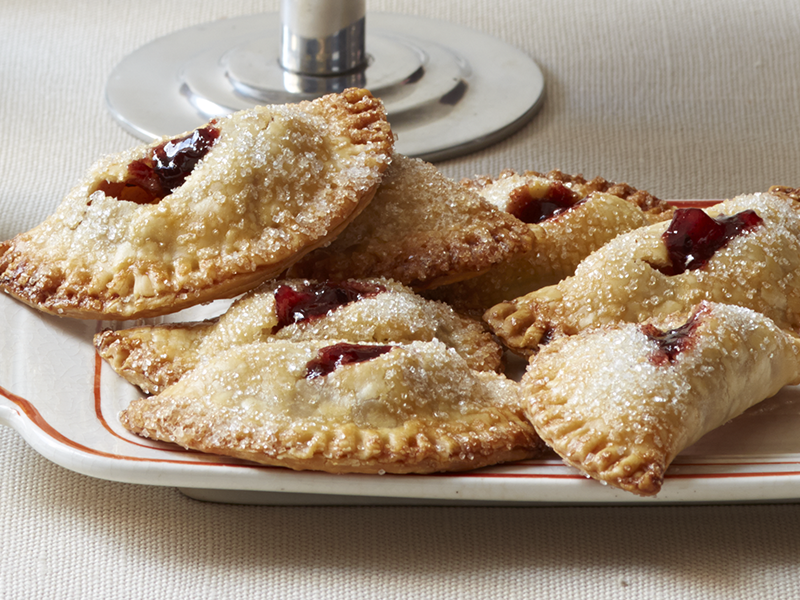 Ingredients
1 14-oz box refrigerated pie crusts (2 rounds)
2 Tbsp butter
2 Granny Smith apples, peeled and diced
2 Tbsp sugar, plus more for sprinkling
½ tsp cinnamon
2 Tbsp blackberry jam
1 egg
1 Tbsp water
Directions
Preheat oven to 350?F. Using a 3 ½" cookie cutter, cut out 14 to 16 rounds from the refrigerated pie dough. Spread on a parchment-lined baking sheet and refrigerate.
Melt the butter in a skillet over medium-high. Add apples, sugar, and cinnamon, and cook, stirring, until sugar dissolves and apples begin to soften, about 5 minutes. Stir in blackberry jam to coat apples.
Spoon about 2 tsp filling onto center of each dough round. Fold round in half and carefully crimp edges together with your fingers. Crimp again with a fork to seal.
Using a paring knife, make a slit in the top of each hand pie to allow steam to escape.
Beat egg with 1 Tbsp water. Brush pies with egg wash, then sprinkle with sugar. Bake until pies are golden brown, 16 to 18 minutes.
Photo Credit: Con Poulos