Makes 12 pops.
What You Need:
Lollipop sticks
Mini ice cream cones
10 oz bag black candy melts
1 box cake mix
Cake-pop pan
Silver sanding sugar
White decorator's icing
What to Do:
1. Insert a lollipop stick into a mini ice cream cone so that it sticks out about a quarter inch past the top of the cone.
2. Create the coating for the cones with black candy melts according to package instructions. Start by melting a small amount of the candy melt into a container that's deep enough to dip the cones into. Add more candy melt as needed for each step.
3. Dip cones into candy melt and let them set until cool to the touch, about 5 minutes.
4. Using your favorite boxed cake mix, bake the "pops" in the cake pop pan.
5. When cake is cool, dip the end of the lollipop stick in candy melt, then attach the cake to the stick. (The candy melt will help the cake adhere to the stick.)
6. Dip the exposed part of the cake into black candy melt, then roll in silver sanding sugar. Let them set until dry to the touch, about 5 minutes.
7. Add the white lines to the mini cones using decorator's icing.
Check out the entire rock star birthday party!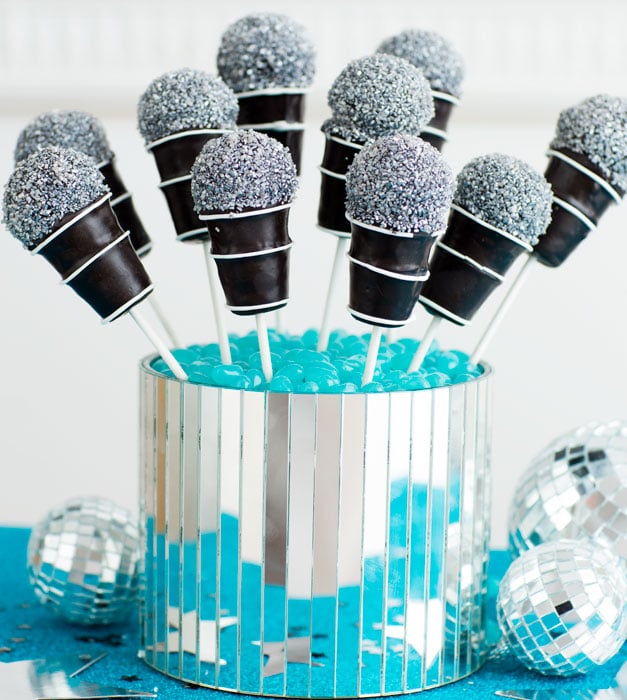 Plus:
More Creative Birthday Party Ideas
Awesome and Affordable Birthday Gift Ideas for Kids
Birthday Party Etiquette FAQs
Food stylist: Jason Schreiber
Photo Credit: Gretchen Easton