You work at Scholastic? Where they make the Harry Potter books? 
We get that a lot. Scholastic Press is the U.S. publisher of the top-selling book series of all time. (More than 450 million copies sold worldwide so far!) Though we at Parent & Child do not play a direct role in the Harry Potter franchise, we do love being associated with such a remarkable cultural touchstone. We also take great pride in knowing that good old-fashioned books have enriched the lives of so many since the first title in the seven-book series, Harry Potter and the Sorcerer's Stone, was published in 1998.
So when it came time to select someone to grace the cover of our 100 Greatest Books for Kids special issue, there really was no question who it should be.
Spellbinding Success
J.K. Rowling, or Jo, as she's known to insiders, doesn't wander the halls of Scholastic, and never did. She lives (and writes) in Scotland with her husband, Neil Murray, a doctor, and their three children, 18-year-old Jessica (from Rowling's first marriage), David, 8, and Mackenzie, 7. By now, every Muggle knows the remarkable story of Rowling's stunning rise to fame: A divorced mom living on public assistance spends hundreds of hours in an Edinburgh cafe writing a children's fantasy novel while Jessica naps nearby in her stroller. After an initial print run of just 500 copies in the United Kingdom (300 sent free to public libraries!), the book skyrockets in popularity, launching one of the most astounding literary careers in history.
The Literacy Trick
With video and computer screens everywhere today, it sometimes seems that books are an endangered species. But the Harry Potter phenomenon suggests that all it takes to get a child interested in reading is finding the right book — the one he'll take to bed with a flashlight so he can sneak in just one more chapter.

For many children, that book has been Harry Potter. Scholastic research backs that up. In a national survey conducted in 2008, three out of four kids said that reading a Harry Potter book has made them interested in reading other books, too.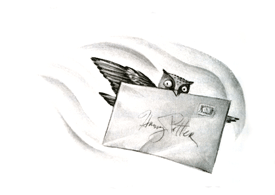 Magical Mom
Rowling has said that as a kid she would read "absolutely anything." Today, while juggling family life with work demands like many moms, Rowling says she still finds time to bury her nose in a book. As she told O, The Oprah Magazine, "I read when I'm drying my hair; I read in the bath. I read when I'm sitting in the bathroom. Pretty much anywhere I can do the job one-handed, I read."

Rowling says she planned to wait until her own kids were at least 7 years old before she started reading the Harry Potter series to them. But by the time Jessica was 6, schoolmates were asking her about Quidditch and upcoming plot details. "She had no idea what they were talking about," Rowling told Entertainment Weekly. "I thought, 'I'm excluding her from this huge part of my life, and it's making her an outsider,'" so Rowling relented. "I read them to her, and she became Harry Potter obsessed!" When she later read the first book to David, he was so entranced that he asked his mom to make him his own book of magic spells. "It wasn't because I wrote the books that he wanted it," Rowling told Oprah. "It was because I was his mother, as any child would ask their mother."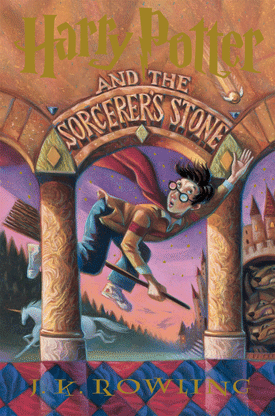 Words of Wisdom
Growing up in England, Rowling has spoken fondly of books from her childhood, some unfamiliar to most American audiences. She cites one title in particular: The Little White Horse by Elizabeth Goudge, a 1946 story of an orphaned girl who, along with a stable of magical beasts, must discover the ancient story behind her cousin's mysterious estate. It resonated with Rowling because "it has a plain heroine, which delighted me beyond words because I was a very plain child myself."

Rowling also mentions The Story of the Treasure Seekers by E. Nesbit, an 1899 novel about six penniless children who must seek their own fortunes. "She is the children's author with whom I most identify. Nesbit said, 'By some lucky chance, I remember exactly what I felt and thought at 11.' That struck a chord with me."

It's clear to us that Rowling's childhood reading helped her make the leap into Harry Potter's world — a world of incredible fantasy, but at the same time, a place where the thoughts, feelings, and everyday concerns of children are extremely real and recognizable. As her millions of readers can attest, including us, that makes her books pure magic.
Find out where Harry Potter ranks on our 100 Greatest Books for Kids!
More From Our 100 Greatest Books For Kids:
4 burning questions about literacy
Online exclusive: The Madeleine L'Engle you never knew
Back to the resource center
Back to the bookshelf
Photo Credit, from top: Fiddy Henderson; Owl: Harry Potter, characters, names and related indicia are trademarks of and © Warner Bros. Entertainment Inc.