They offer yummy incentives
Struggling readers need all the encouragement they can get. Knowing there's a delicious dish at the end of the recipe is a surefire way to get little chefs motivated to sound out tough words and keep on reading, says Donna Stewart, president of the online tutoring service Reading Network and author of the blog Literacy for All Learners. (Bonus: Kids are more likely to try new foods if they've helped parents make them.)

They teach kids to follow directions
Cookbooks drill down the importance of reading carefully — miss a step in the instructions, and the dish could be ruined! Paying attention to details will become crucial for older readers, and working through a recipe is a fun way to learn how to do that.

They introduce a whole new vocabulary
From funny-sounding ingredients to tricky cooking terms, there are tons of unfamiliar words in cookbooks, and putting those foods, tools, and measurements to use will help the meanings stick. Cookbooks are particularly good for mastering math lingo, such as one-half or one-fourth, and homemade pizza is the perfect demonstration tool!
Flavorful Faves
The Very Hungry Caterpillar Cookbook and Cookie Cutters Kit by Lara Starr & Eric Carle
Pictured Above
A classic gets a cookbook makeover with 60 kid-friendly recipes, plus three cookie cutters! Chronicle Books, $19. Ages 3 to 7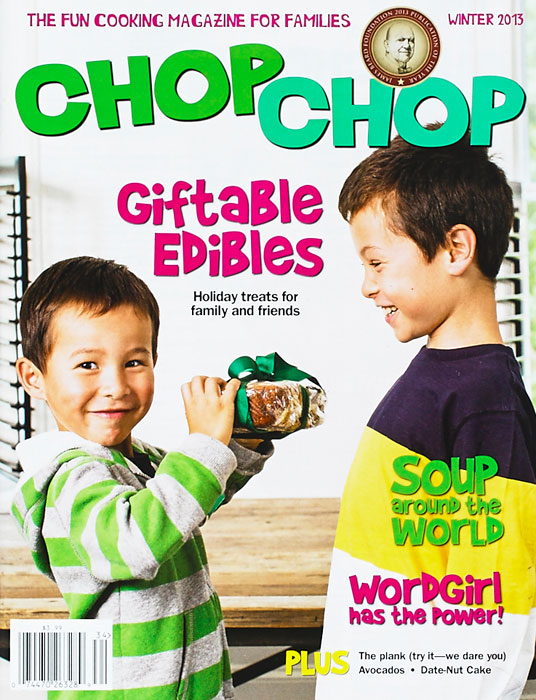 Chop Chop 
A young foodies' magazine packed with kid-friendly recipes, lessons on basic kitchen skills, and safety tips. $15 for 4 issues annually. Ages 5 to 12

Family Cookbook by Caroline Bretherton
Photos for every recipe, plus great info on batching and freezing and on dealing with food allergies and picky eaters. Dorling Kindersley, $35. Ages 9 to 12
Plus:
How Pop-Up Books Improve Reading Skills
How Comic Strips Help Kids Read and Learn
Photo Credit: Aaron Dyer; Family Cookbook courtesy of Dorling Kindersley