Sandra Lee began feeding children when she was just a child herself. As the oldest of four siblings, and with a single mother who was physically and mentally ill, Lee assumed responsibility for her family's welfare early on. By age 12, she was cooking, cleaning, doing laundry, and stretching food stamps at the supermarket to keep everyone going. "Growing up under those circumstances created a strong desire to not allow today's children to feel what I felt," says Lee, host of the Food Network's popular show Semi-Homemade.
In addition to her TV role, Lee is the author of the bestselling Semi-Homemade cookbooks and the spokesperson for the Great American Bake Sale, a national campaign to help end childhood hunger. She combines her passion for cooking with an enthusiasm for making a difference by helping others raise money through bake sales and serving as advocate for the 12.6 million American children at risk of hunger.
"Hosting a bake sale is a great way to teach young children about the value of helping others who are less fortunate," she says. Lee advises hosts to set up shop in high-traffic areas, such as a front lawn, school lobby, or at a sports event to maximize exposure and success. The more items you make, the more money you can make.
Lee, who as a child often prepared entire meals from what was left over in the cupboards, says that having a bake sale doesn't have to be expensive or time-consuming. Her Semi-Homemade recipes, which combine 70 percent ready-made products you'll find in your grocery store with 30 percent fresh ingredients, are budget-minded and have simple instructions that kids can follow with their parents. So preheat the oven and open the kitchen cabinets. It's time to get bakin'.

White Chocolate Cupcakes
What you need:
1 box (18.25 oz) white cake mix
1 box (1 oz) instant white chocolate pudding and pie filling
1 cup cream soda
½ cup vegetable oil
¾ cup liquid egg whites
2½ cups white chocolate chips (divided)
2/3 cup heavy cream
white chocolate bar, shaved, for garnish
What to do:
Preheat oven to 350°F. Line two 12-cup muffin pans with baking cups and set aside.
Beat cake mix, pudding, cream soda, oil, and egg whites in a large bowl with an electric mixer on low for 30 seconds. Scrape sides of bowl and beat for 2 minutes on medium. Stir in 1 cup white chocolate chips until well combined. Fill each baking cup full.
Bake for 25 to 30 minutes. Remove and cool completely.
Heat cream over medium heat until just boiling. Pour over remaining 1½ cups white chocolate chips in a medium bowl, and stir with a rubber spatula until smooth. Let cool to room temperature or until mixture is thick and shiny.
Dip tops of cooled cupcakes into white chocolate mixture and turn upright. Smooth tops with a butter knife if necessary. Garnish with white chocolate shavings.
Makes 24 cupcakes.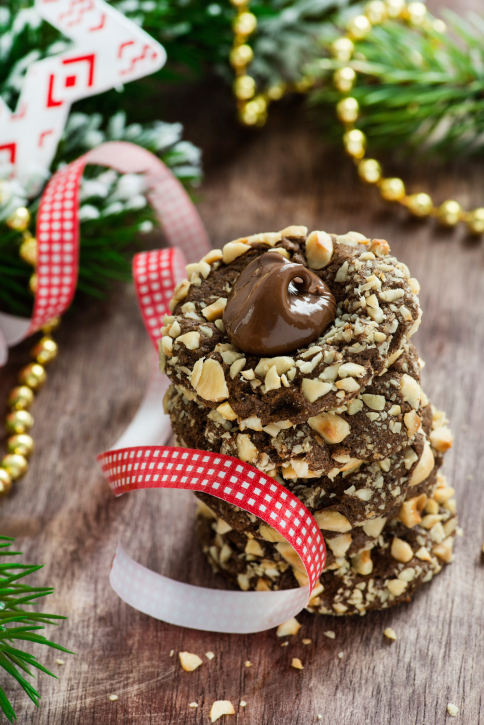 Chocolate Thumbprint Cookies
What you need:
1 container (16 oz) dark chocolate frosting
½ stick butter, softened
2½ cups graham-cracker crumbs
½ tsp pure almond extract
1 cup very finely ground almonds
48 chocolate candies, such as Hershey's Kisses, unwrapped
What to do:
Beat chocolate frosting and butter in large bowl until well blended. Mix in graham-cracker crumbs and almond extract. Place almonds in a pie pan or other shallow bowl.
Shape chocolate mixture into 1-inch balls (about 48). Roll each ball in ground almonds to coat. Place balls on cookie sheet.
Using a finger, make a deep indentation in the center of each ball. Fill each indentation with a chocolate morsel. Refrigerate for 30 minutes or until cold.
Makes about 48 cookies.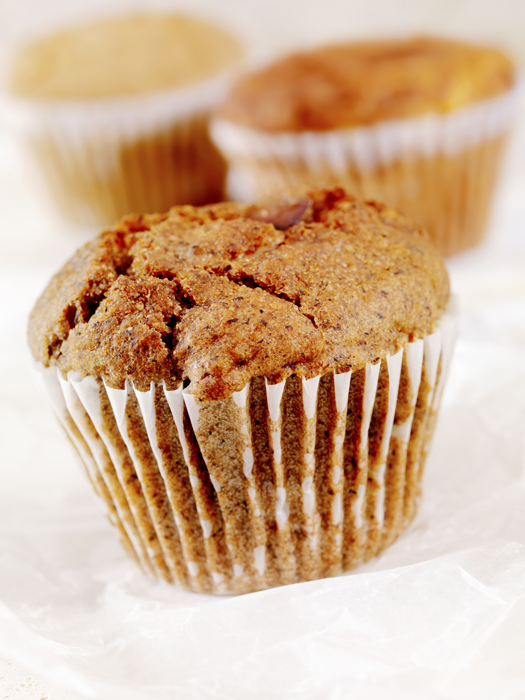 Zucchini Bran Muffins
What you need:
Canola oil cooking spray
1 box (18.25 oz) raisin bran muffin mix
1¼ cups grated zucchini (about 1 medium zucchini)
¾ cup apple juice
3 egg whites
¼ cup unsweetened applesauce
1 tsp ground cinnamon
Honey (optional)
What to do:
Preheat oven to 400°F. Lightly coat twelve 2½-inch muffin cups with cooking spray. Set aside.
In a large bowl, stir together muffin mix, zucchini, apple juice, egg whites, applesauce, and cinnamon until combined. Spoon batter into prepared muffin cups, filling each full.
Bake muffins for 20 to 22 minutes. Cool muffins in muffin cups on a wire rack for 5 minutes. Remove from muffin cups. Serve warm. Drizzle with honey (optional).
Makes 12 muffins.
Plus:
How to Host a Cookie Exchange
Photo Credit (from top to bottom): CreativeI/iStockphoto, Katsiaryna Belaya/Thinkstock, LauriPatterson/iStockphoto