BBQ Safety Tips
Always have an adult light the grill or fire and man it the entire time.
Never grill in an indoor or poorly ventilated space.
Never use the same platter for raw and cooked meat without washing it first.
Let food sit for a short period after removing it from the grill to avoid burns.
Keep all grilling tools and sharp knives out of reach of children and far from deck or patio edges.
When summer arrives, my wife and I take our two young sons (my home-kitchen sous chefs) from our Manhattan apartment to our house in northern Michigan. Each morning, Leo, 10, and Benno, 11, rush outside, and immediately we've got a Batali boys bonding session going — grill-style! We fire up everything, from the typical (steak), to the unusual (pizza), to the really imaginative (peaches), enjoying every second of our al fresco family time.
PLUS: TIPS FOR COOKING WITH KIDS
Behind the BBQ
You're probably familiar with the classic grilling scenario in Anytown, USA: Dad mans the grill and Mom makes the side dishes while the kids play outside. Not us. My kids are serious about grilling, and yours can be, too. My new cookbook, Mario Batali Italian Grill, marries the celebration of simple Italian food and the great American pastime of the backyard cookout. Using easy, mouth-watering recipes, I'll show you how the whole family can cook spectacular summer dishes together.
Grilling with your kids is a great way to teach them about simplicity and patience. It illustrates just how fantastic food can taste and look when cooked in a pure and timeless manner, and my secret to grilling success (leave it alone!) encourages them to sit back, relax, and let the heat and fire do the work.
Outdoor cooking can also be exciting. Kids love to watch plain raw food become a grill-marked masterpiece. It's a process that can inspire an appetite in even the pickiest child. I like to encourage my boys to come up with their own creations — however strange they may be. People usually limit grilling options to burgers, dogs, or wings, but you can throw almost anything on the fire and get delicious results. This is a great time for kids to get inventive and inspired!
In terms of safety, you might think children and flames should be kept far apart. But cooking near an open fire isn't much different from using a stovetop, as long as the same safety measures are taken. Young kids can marinate the food, shuck corn, make drinks, concoct a fun summer fruit dessert, or decorate the picnic table. With your supervision and help, older kids can place food on the grill and flip it.
However involved the kids get — from the smallest of tasks to the largest — the main event is the family working together to create a fun, festive, and tasty meal. Just as summers fly by in the blink of an eye, so do these precious years in which your kids are eager to learn from you. The fresh foods of summer, an open grill, and time together will help you enjoy it to the fullest, making every meal a family meal. 
Mario's Super Summer Recipes
I handpicked two of my favorite family-friendly recipes that require simple prep work, so young kids can help out, too. 
Corn As Italians Would Eat It
Kids will love shucking the corn, parents will love not having to, and both will enjoy digging in when it's done.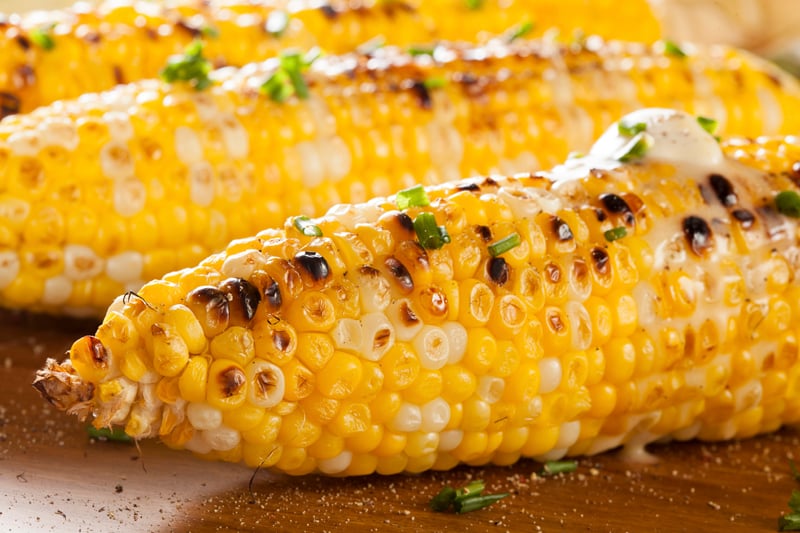 What You Need:
6 ears corn, shucked
1⁄4 cup extra-virgin olive oil
3 Tbsp balsamic vinegar
1 to 1 1⁄2 cups freshly grated Parmigiano-Reggiano cheese
2 Tbsp chopped fresh mint
Hot red pepper flakes
What To Do:
Prepare your grill: either preheat or start a fire.
Place the corn on the hottest part of the grill and cook for 3 minutes, or until grill marks appear on the first side. Roll each ear over a quarter turn and cook for 2 to 3 minutes, then repeat two more times.
Meanwhile, mix the oil and vinegar on a large flat plate. Spread the Parmigiano on another flat plate.
When the corn is cooked, roll each ear in the oil and vinegar mixture, shake off the extra oil, and dredge in the Parmigiano to coat lightly. Place on a platter, sprinkle with the mint and pepper flakes, and serve immediately.
Pizza Margherita
Let the kids play around with the toppings — cheeses (please, no American!), meats, veggies — and see what happens.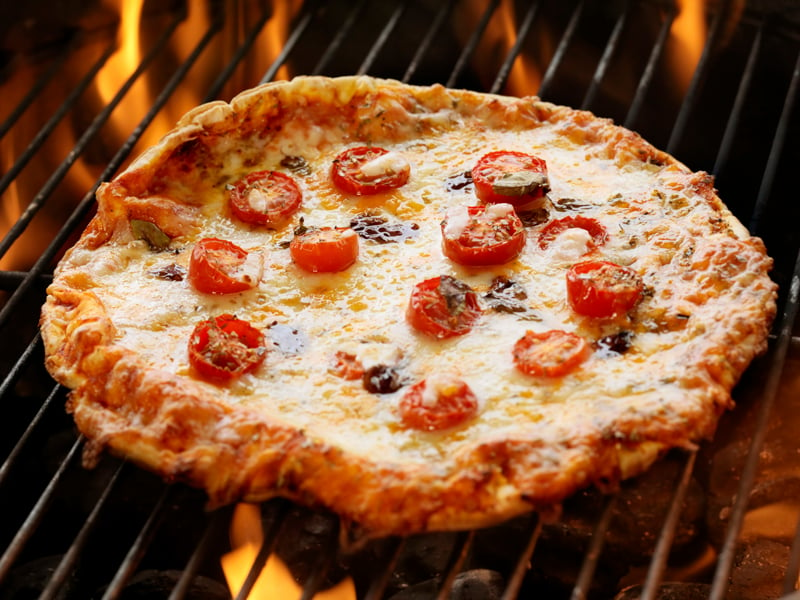 What You Need:
Pizza dough
1 cup simple tomato sauce (I like Pomì strained tomatoes)
8 oz fresh mozzarella, thinly sliced
1⁄4 cup extra-virgin olive oil
24 fresh basil leaves
Coarse sea salt
What To Do:
Prepare a gas or charcoal grill for indirect grilling.
Divide the dough into 4 pieces and shape each one into a ball. Let rest for 15 minutes, loosely covered with a tea towel or plastic wrap.
Using a floured rolling pin or your hands, stretch each ball into a 9- to 10-inch round. Carefully lay one round of dough over the hottest part of the grill and cook until the bottom is lightly browned and dry, about 2 minutes. Using tongs, gently lift up the dough, flip over, and cook for just 30 seconds. Transfer to a baking sheet with the less cooked side up, and repeat with the remaining dough rounds. Let cool.
Divide the sauce among the partially cooked pizzas and, using the back of a kitchen spoon, spread it evenly to within 1⁄2 inch of the edges of the dough. Divide the cheese among the pizzas.
Place 1 or 2 pizzas at a time on the cooler part of the grill and cook until the cheese is melted and the bottoms are crisp and golden brown, about 2 minutes. Transfer to a cutting board and drizzle with a little olive oil. Scatter 6 torn basil leaves over each pizza and sprinkle with coarse sea salt. Cut into slices with a pizza wheel and serve hot.
Photo Credit: AVNphotolab/iStockPhoto; bhofack2/iStockPhoto