Li'l Bunnies
Cute cottontails come together in minutes
How to Do It:
1. Cut cardboard into ovals with pointed tips. Snip white felt into a smaller version of the same shape.
2. Paint cardboard to match egg hue, then glue down felt; attach ears with hot glue.
3. Draw dots for the eyes.
4. Glue on a small white pom-pom "nose" and a larger white pom-pom for the tail.
Chick Mobile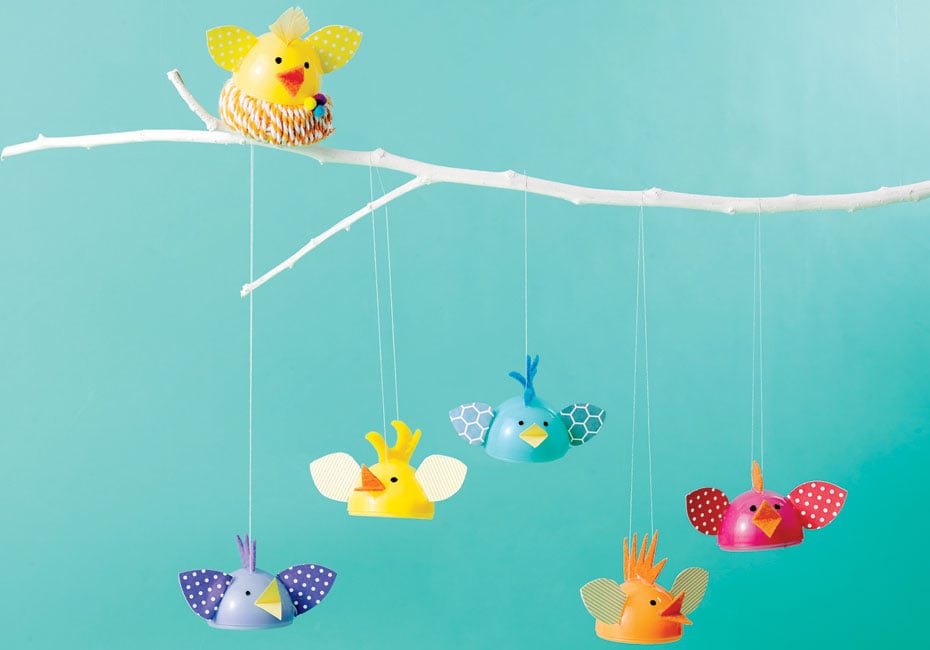 Baby birds take to the sky with a little help from some clear fishing line.
?How to Do It:
1. Thread line through the two holes on top of the smaller half of the egg. Use a marker to draw two dots for eyes.
2. Draw a wing shape on patterned scrapbook paper. Cut out; use as a template for other wings. Fold down the bottoms to create flaps; attach to sides of eggs with craft glue.
3. Snip mohawks and kite shapes from colorful felt or card stock. Fold kites in half as beaks. Attach with craft glue.
4. Suspend the birds from a white branch (available at craft stores), then hang the mobile.
Tip: Make a sweet nest by wrapping a section of a toilet paper roll with striped twine.
For a how-to video, visit Scholastic.com/pcbirdmobile.
PLUS: 9 EASTER CRAFTS FOR KIDS
Mini Planters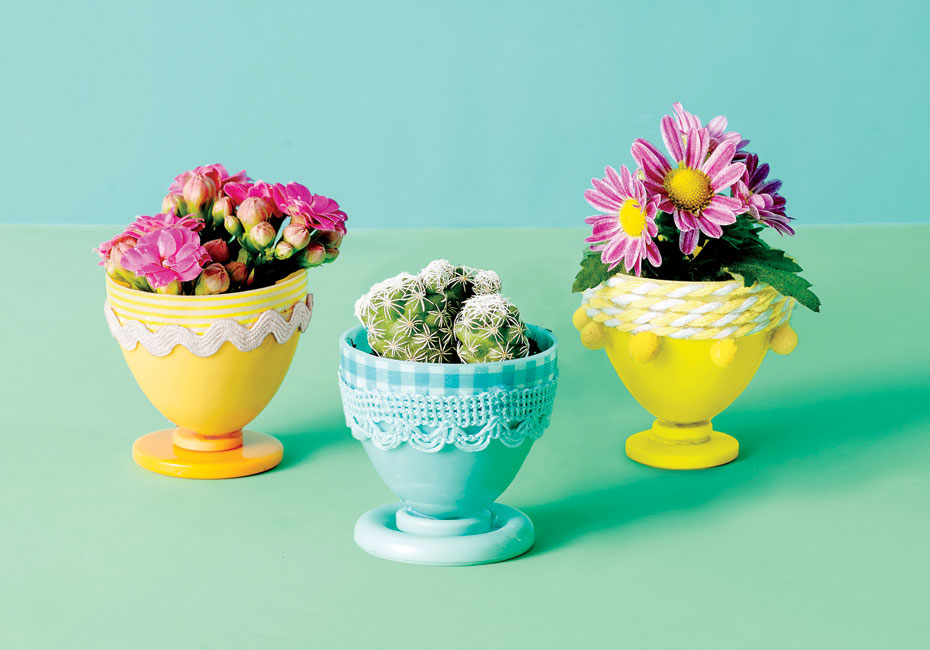 These little containers are ideal for petite blooms
?How to Do It:
1. Use craft glue to attach trim (such as rickrack) or pom-poms to the larger half of each egg.
2. With hot glue, affix a small button atop a larger one to make a base. Then, hot-glue eggs to the bases.
3. Fill each egg with a handful of pebbles, then add 1 inch of dirt. Transplant tiny kalanchoe, daisies, or cacti.
PLUS: 11 EASY EGG DECORATING IDEAS
Photo Credit: Emily Kate Roemer