Recipes by Amy Lord
Scrambled, deviled, or hard-boiled — most children love eggs. One of our most flexible foods, the little oval egg can be whipped up for a satisfying, on-the-spot meal or made ahead and packed to go. They're loaded with protein, B vitamins, iron, and minerals to provide your child a guaranteed — and sustaining — energy boost. And, as if that's not enough, eggs can also be served up as a great source of learning and exploration.
The Perfect Hard-Boiled Egg
This method ensures well-cooked eggs with bright yellow yolks and tender whites.
What to do:
In a large pan, place eggs in a single layer and cover with cold water. Place over high heat and cook until water comes to a boil.
Allow eggs to boil for one minute, then remove pan from heat and cover.
3. Let sit for 10 minutes, then place pan in sink and run cold water over eggs until they are cool to the touch. (You may add ice cubes to speed the process.)
Remove eggs from water, peel, and enjoy!
PLUS: TASTY TWISTS ON SCRAMBLED EGGS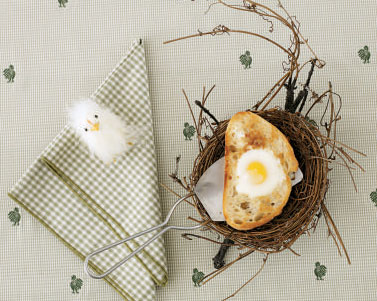 Bird in the Nest

What you need (for each serving):
1-inch-thick slice country-style bread
1 tablespoon (approximately) softened butter
1 large egg, cracked into a liquid measuring cup
What to do:
Heat a nonstick skillet over medium to medium-high heat.
Spread both sides of the bread generously with the butter. Using a 21⁄2-inch round cookie cutter, cut a hole out of the center of the slice. (Kids can help with these steps!) Save the cut-out center of the bread to toast in the pan while you cook the egg.
Place the bread in the skillet and grill for 5 minutes. Turn bread over and help your child gently pour the egg into the hole. Cover with a lid and cook for about 6 minutes or until the yolk is thoroughly cooked. Remove from pan and serve with a side of jelly.
For those who like their eggs with a softer yolk, cook the covered egg for only 3 to 4 minutes. The egg can also be flipped after 4 minutes and cooked an extra 2 minutes for an over-easy egg.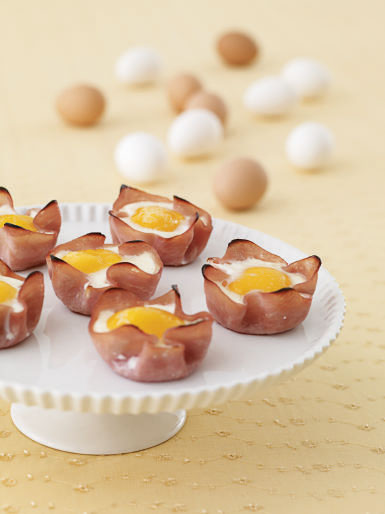 Ham-n-Egg Cups

What you need (for each serving):
nonstick cooking spray
4-inch square slice of deli ham
1⁄2-inch thick slice plum tomato
large egg
What to do:
Preheat oven to 350°. Spray the cups of a regular-sized muffin tin with nonstick cooking spray.
For each serving, lay one slice of ham over a muffin cup, place a tomato slice in the center of the ham and gently press down to insert into cup. Pour contents of one egg on top of each serving.
Place pan in oven and bake for 20 to 25 minutes or until the egg yolk is cooked to your liking. Remove from oven and allow to cool for one minute. Using a spoon or spatula, lift each egg cup from the muffin tin and serve.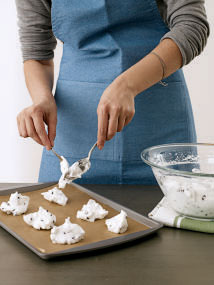 Chocolate Chip Meringues
What you need:
4 large egg whites
1 pinch of salt
1 cup granulated sugar
1 teaspoon vanilla extract
1⁄2 teaspoon fresh lemon juice
1⁄2 cup mini chocolate chips
What to do:
Place oven rack in oven's center. Preheat to 275°. Line 2 cookie sheets with parchment paper.
Using an electric mixer, beat egg whites on medium speed until foamy. Then add the pinch of salt. Continue beating while slowly adding sugar, about a tablespoon at a time. Gradually add the vanilla extract and lemon juice with the sugar while continuously beating.
When soft peaks begin to form, increase speed to medium-high and whip until the eggs are thick and glossy with stiff peaks. It should take about 10 minutes; do not overbeat or the eggs will become dry. (Mixture should resemble very thick whipped cream.) Lightly fold in chocolate chips.
Using a spoon, transfer small dollops of the mixture onto the prepared pans, spaced about 11⁄2 inches apart. Bake for 40 minutes. Halfway through the baking time, rotate the pans.
Turn off the oven and allow to cool in the oven for 45 minutes. Remove meringues from baking sheets and allow to cool completely on a rack. Store in a tightly sealed container at room temperature.
(Note: When working with egg whites, it's especially important that all cooking implements are clean and grease-free. Otherwise, your eggs may never peak.)