Cleo & Her Kitty
It's a cinch to pull this off: Raid your closet for anything white — shirt and leggings, a tunic or dress — and add a gold belt. Your baby can wear black or white leggings and a T-shirt. Find a cool wig and snake bracelet at costumecraze.com.
How-Tos:
The Necklace 
Gold cupcake liners are the secret weapon here. Assemble from the bottom up: Fold nine liners in half; staple them together in a soft V-shape.
Assemble the next row using seven liners; staple to the bottom row. Make and attach two more rows, one with five liners, one with three. Use mini liners to trim the top. 
When you're done, staple or safety-pin the necklace to your dress. 
Cat Ears and Tail 
Get two different-colored pieces of felt: one color for the inner ear, one for the outer. Cut out two pairs of teardrop-shaped ears.
Glue the inner ears to the outer ones. Stitch or safety-pin the ears to a cap.
For the tail, twist together two sets of three pipe cleaners. Then twist the sets together end-to-end to form a column.
Wrap the column in black felt and glue it together.
Safety-pin the tail to the waistband of the leggings.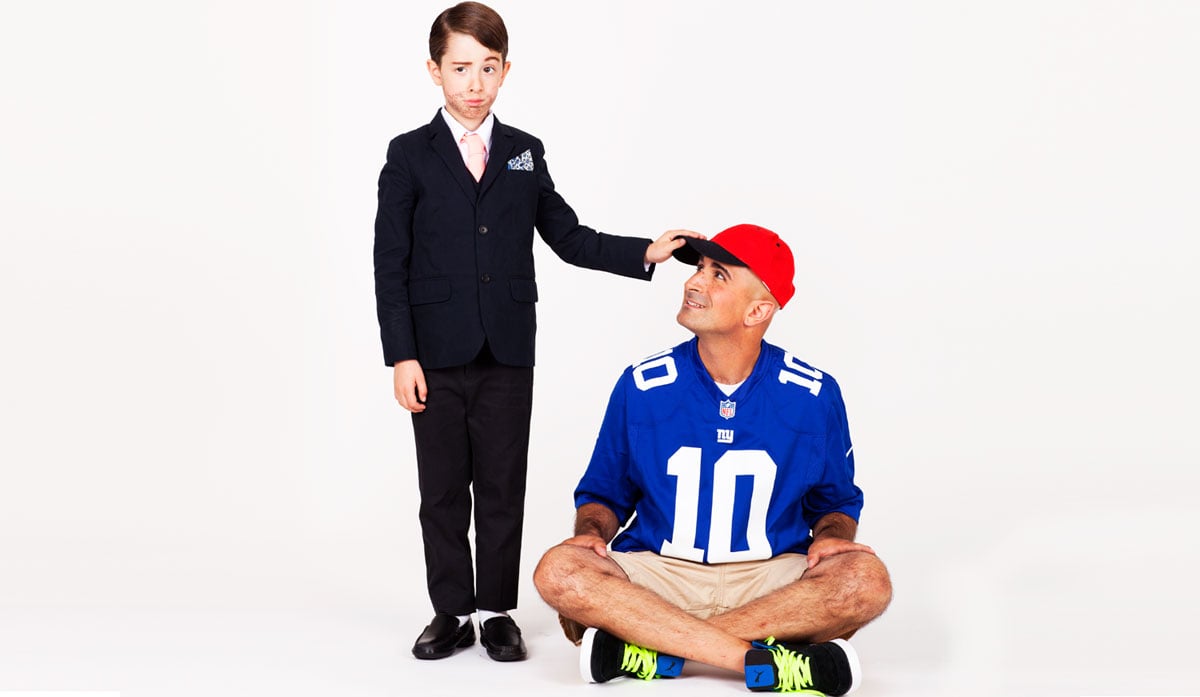 You & Me
He's already your mini-me, so why not work that angle this Halloween? Bonus: You'll be out trick-or-treating in next-to-no-time.
Dad (or You!)
Simple: Dress like your boy does! Oversized jersey, shorts, scuffed (but cool!) kicks, and a Nintendo DS sticking out of your back pocket.
Your Child
Suit him up and add a colorful tie. Give him your work bag to fill with the night's loot.
Ice Cream & Sprinkles
You'll look good enough to eat! With just a few simple adds to dresses you already have . . . you're done!
How-Tos:
Ice Cream Hat
Cut the legs off two pairs of tights that match your "flavor." Use one leg per layer (toss the extra).
Size the first layer to your head and snip off any extra. Tie off one end.
Stuff with polyester fill (available at craft stores) and folded paper towels so the tube stays firm.
Twist the tube into a circle and knot the two ends together.
Repeat steps three and four for the second and third layers. Make each layer about 4 inches shorter than the previous.
Glue the first two layers together with fabric glue; form the third into a spiral, gluing it down as you go.
Rainbow Sprinkles
Adorn a solid-color dress with round, removable color-coding labels from an office-supply store.
Glue different-sized pom-poms onto a headband to finish the look.
Download our Rainbow Sprinkles Sash online at Scholastic.com/sprinkles.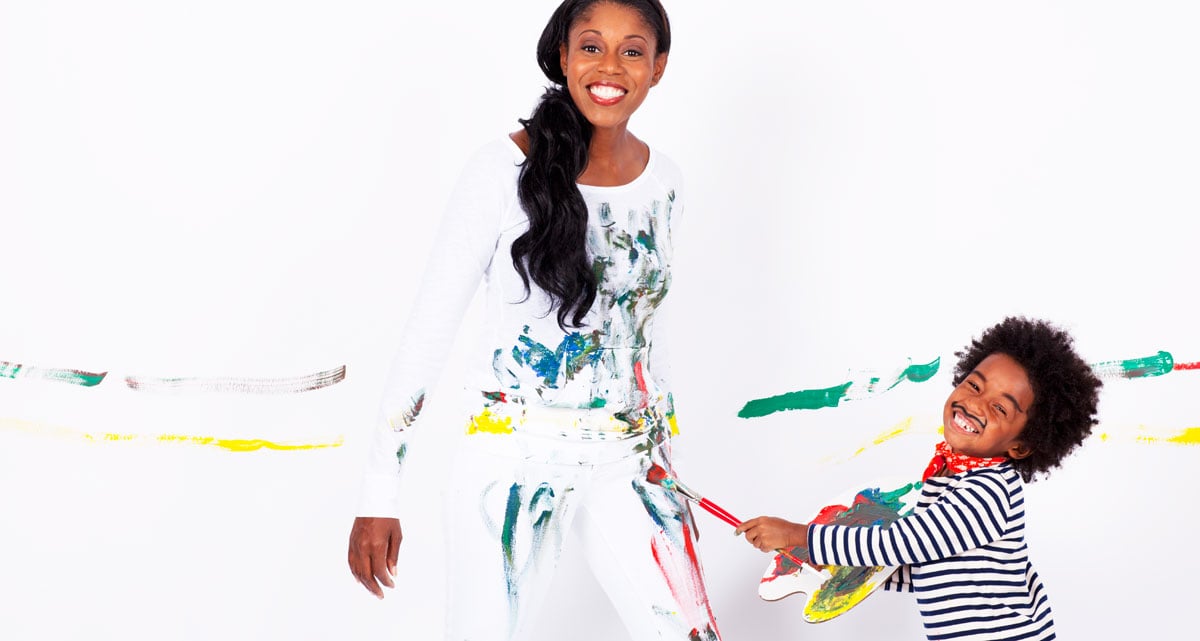 Artist & Canvas
Anything goes on Halloween — so let your kiddo unleash his inner Picasso and go wild with a brush and paint set.
Canvas
Grab your oldest white shirt and a pair of cheap leggings or sweatpants.
Artist
Give your pint-size artiste a striped T-shirt and a scarf or beret to wear. Voilà! You're both ready to paint the town (well, neighborhood) red. And green and blue...
Photo credit: Rus Anson