While a dictionary has long been a useful tool for spelling and vocabulary development, the ease of use and added features of today's dictionary apps make them an even more interesting proposition to our tech-savvy generation of children.
While I won't be getting rid of our paper dictionary any time soon (there are serious literacy benefits to a paper dictionary), I can see why dictionary apps are so engaging for kids. Being simple to use and including lots of useful features makes the process of checking spelling or improving vocabulary fun. So for now, we'll make time for both in our home.
Here are five dictionary apps that I think are definitely worth exploring with your child:
Dictionary Apps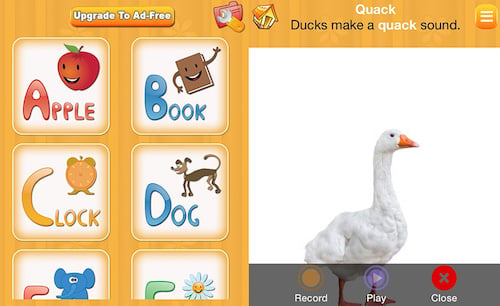 1. A first picture dictionary with over six hundred words, Kids Picture Dictionary is a great first dictionary app for preschoolers. Each word is accompanied by an example sentence, with the word and sentence read aloud. A fun feature is the inclusion of a voice recorder so that your children can make up and record their own definitions or example sentences for each word.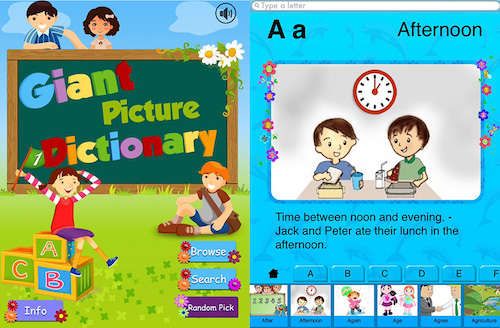 2. The Giant Picture Dictionary app features more than 1,800 words and includes colorful pictures and simple, age-appropriate definitions to illustrate each word. The app includes an easy-to-use word search feature, making it a useful transition between a young child's picture dictionary and the more traditional structure of a full dictionary. The "random" function also acts as an introduction to the idea of a Word of the Day, which is great for boosting your child's vocabulary development.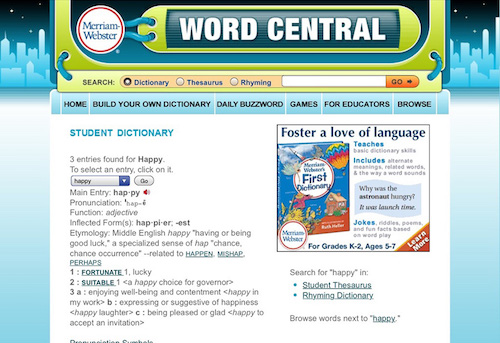 3. Though not an app, Word Central is a kid-friendly website that functions well on both smartphones and tablets, and pulls its results from the Merriam-Webster dictionary. As well as offering an age-appropriate definition of each word, each entry offers links to an audio file sharing proper pronunciation. Your school-aged child will also find the thesaurus and rhyming dictionary tools handy. Users can also search or browse the dictionary tools, check out the daily "buzzword," and play a number of language games.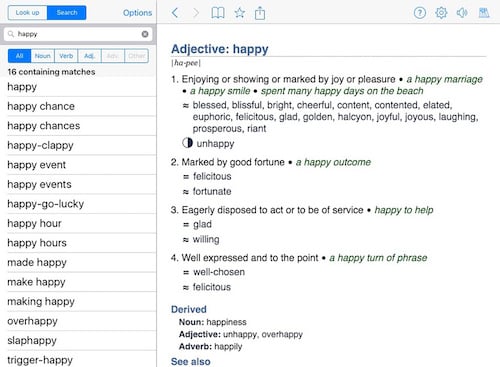 4. The WordWeb Dictionary app is a useful tool for children 9 years old right through to adults. The search feature suggests possible spelling corrections as your child types, alongside words that sound the same or are often confused. As well as providing a comprehensive definition, examples of usage, synonyms, antonyms, and related words are also featured for each word. 

5. The Dictionary.com app is suitable for older elementary students and adults alike, offering more than two million definitions and synonyms. For each entry, the app offers audio pronunciation, word origin and history, and predicted spelling help. The Word of the Day feature is world-renowned and great for growing your elementary or middle school child's vocabulary.
Featured Photo Credit: © Yagi-Studio /iStockphoto