Sometimes, kids can come up with the coolest, most creative ideas for play or pretend and parents are in awe of their abilities. But other times, as with adults, kids seem to need a little "push" to get their creativity flowing and ideas moving. 
When my kids are in the mood for an activity that gives them an opportunity for quiet creating, I often turn to Scholastic's Story Starters.
Scholastic's Story Starters is a free online resource that gets kids' creative juices flowing by providing them with four story themes and endless ideas.  The cool thing is that each time they sit down for some story creation, they end up with a final product that they can print, download, save, and share.
You can use Story Starters online, allowing kids to work independently, or you can use the resource as a collaborative, group activity.
Here's how it works:
Go to the Story Starters homepage and choose a theme: Adventure, Fantasy, Sci-Fi, or Scrambler.  Then,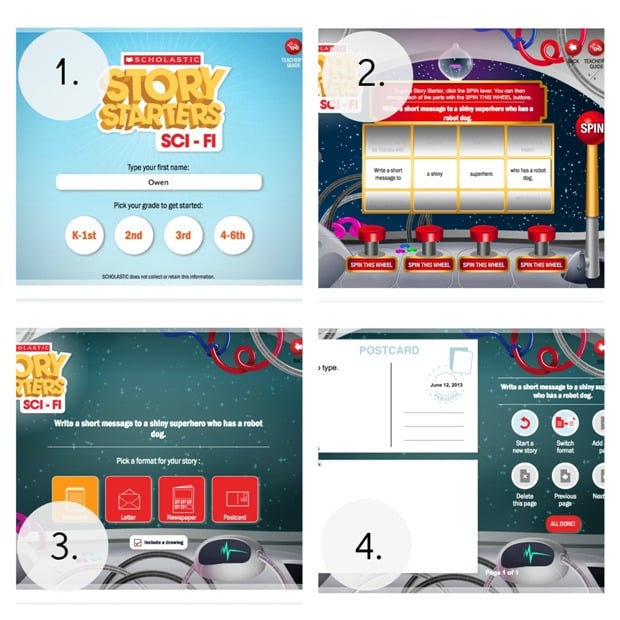 1.  Enter your children's names and grades: K-1st, 2nd, 3rd, 4th-6th.
2.  SPIN THE WHEELS and find your story starter!
3.  Choose a format for their story: Notebook, Letter, Newspaper, or Postcard and decide whether or not your kids will want to leave space for a drawing.
4.  Help your children write the story!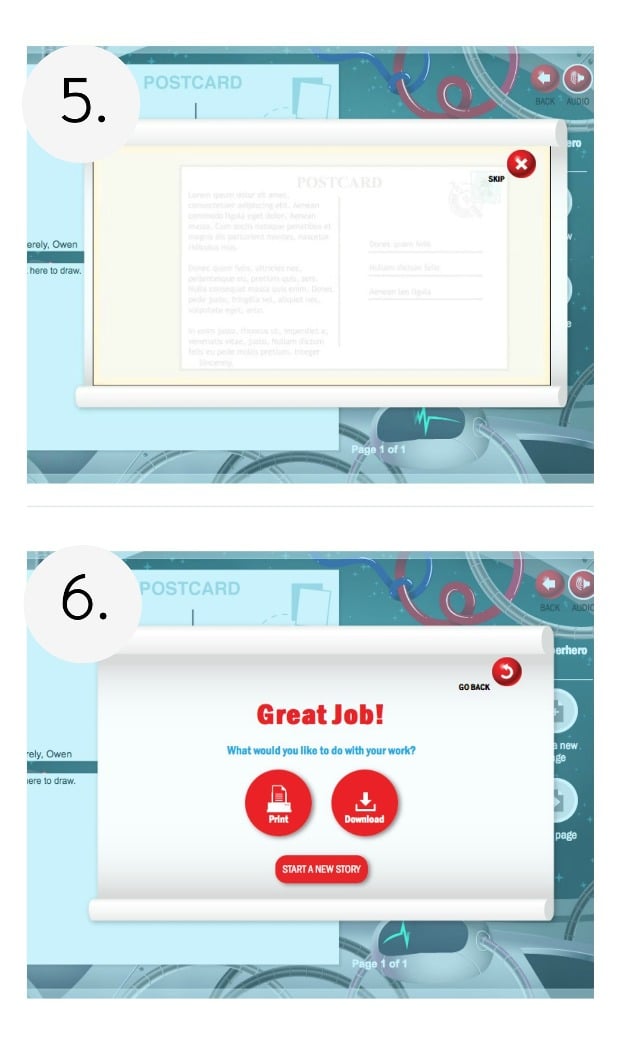 5.  Take a look at their work and edit, if necessary.
6.  Share their creation: either print or download—or help them start a new story!
I'm filled with ideas on how my kids and I can use Story Starters this summer to encourage creative thinking throughout our days.  We will:
Have a Story Starter idea generated and waiting at breakfast.  Talk about great early morning conversation!
Use Story Starter ideas as add-on stories for long car trips or Metro rides.
Allow each child to choose his or her own Story Starter idea, write the story, and then switch ideas!
Have each child decide on a certain part of the story and spin the wheel and then every person writes his or her own interpretation of the idea.
Collaborate on the Story Starter idea and collaborate on the story—but each person writes it in a different format.
Experiment with different ways of illustrating stories: watercolor, pastels, colored pencils, or crayons.
And that's it -- but it's actually just the beginning!
Have you tried Scholastic's Story Starters with your children?  What did you think? How might you use it this summer? Share your thoughts on the Scholastic Parents Facebook page, or find Amy on twitter, @teachmama, and let's continue the conversation!