On warm and sunny days, my family enjoys walking through our neighborhood together. These walks allow for a little after dinner exercise and, every now and then, a little skill-building too. 
On one recent walk, we did a family challenge with my pre-reader and my beginning reader. Armed with a check-off printable list (see below), we took a "literacy walk" together, in search of answers to clues, much like a scavenger hunt. 
Here's how: The printable list contained things we needed to find on our walk, based on the clues we read aloud. Each item required my children to think about words that rhyme, begin or end with a certain sound, contain a certain number of syllables, or identify letters found in the environment. 
We solved each clue as a team, and we checked off and wrote down each item on the list as we found it. Plus, we had lots of laughs along the way.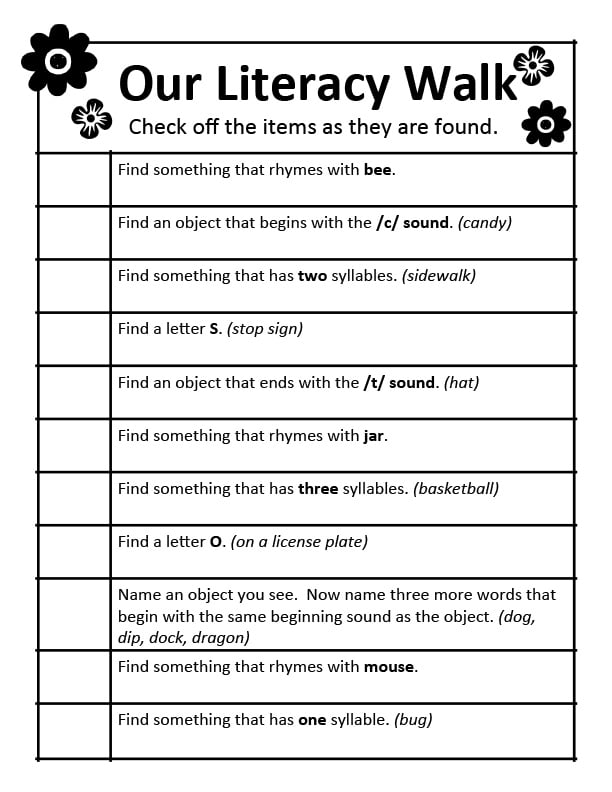 This activity could easily be adapted for your older child as well. Independent readers can carry their own challenge sheet and write down their answers. If you need a few more ideas for your next walk, or for enrichment, you and your children could try a few of these:
Takes turns telling a group story. Each time a moving object (a vehicle, an animal, or a person) is seen, add it to the story.
Go on an alphabet hunt. Start by finding the letter A somewhere in the environment. Then continue in order through the rest of the alphabet.
Play a guessing game. One person gives three clues about an object that can be seen on the walk. The other walkers have to guess the answer based on the clues given. For example, if the object is a squirrel, the clues could be that 1) it's furry, 2) it climbs trees, and 3) it eats nuts.
In the spirit of Earth Day, head outside with your kids and enjoy an interactive walk while building their reading and writing skills.
Download your literacy check-off printable list here.
Featured Photo Credit: © RonTech2000/Thinkstock