Ahoy, matey, here's a loot of books to enjoy with the kids. Load up on the couch (aka your ship) and don your best pirate voice for reading these tales. There are titles for your youngest listeners all the way up to your tweens.
For Beginning Readers and Newly Independent Readers
The four picture books below can be enjoyed by young pirates of all ages. They make for great read-alouds or stand-alones for independent readers.

1. If your kids remember the traditional I Know An Old Lady Who Swallowed a Fly, they will definitely appreciate this pirate version. There Was an Old Pirate Who Swallowed a Fish by Jennifer Ward. Instead of an old lady as the main character, there is an old pirate in this story song. The pirate swallows birds, fish, maps, and gold which makes his stomach grow and grow and grow.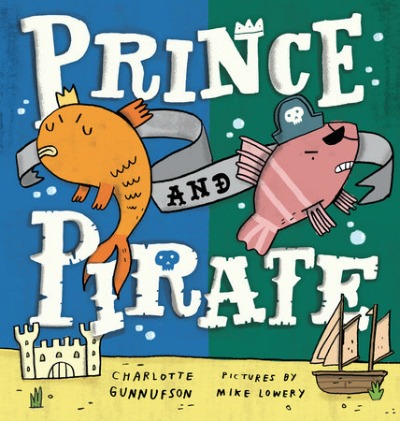 2. Prince and Pirate by Charlotte Gunnufson might not be your typical pirate story, but kids will love it none the less. Prince and Pirate are both fish who ruled their own fish bowls until one day when things changed. Now, they have to occupy the same waters and they both want to be in charge. There is an underlying message of the importance of sharing that your kids will learn.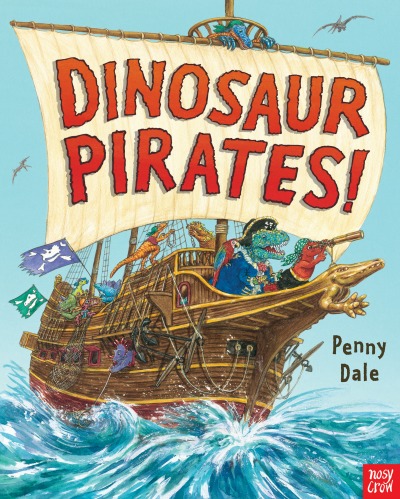 3. Many little pirate fans also happen to be dinosaur lovers. In Dinosaur Pirates! by Penny Dale, those two worlds combine into one imaginative story of dinosaurs as pirates sailing the sea. Kids will enjoy acting this book out because it's filled with action words that beg them to pretend play, just like the dinosaurs in the book.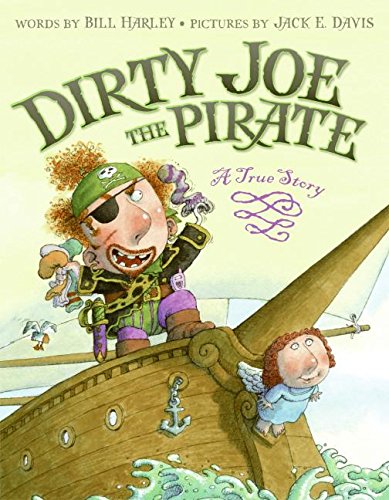 4. Get ready to laugh out loud as you read Dirty Joe, the Pirate: A True Story by Bill Harley. Dirty Joe is on a mission and it's a very smelly quest. He and his crew are on the search for dirty, odorous socks. Along the way, they meet another pirate crew led by Stinky Annie. Encourage your kids to study the illustrations to find lots of hidden details.
For Independent Readers and Up
Newly independent readers and older kids will enjoy the next selection of books. I've even used the next book as a chapter book read-aloud with preschoolers and kindergarteners.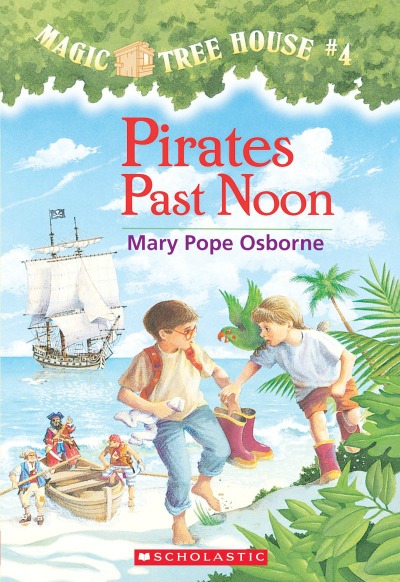 5. Early chapter book readers who love the Magic Tree House series will want to check out Pirates Past Noon by Mary Pope Osborne. Explore with Jack and Annie as they travel via their tree house to the open seas. Will they discover a buried treasure?
Follow up with the Magic Tree House Fact Checker Pirates also by Mary Pope Osborne. Your new readers will get all the facts to go along with the fictional Pirates Past Noon.

6. Your older kids will enjoy exploring Pirateology: The Pirate Hunter's Companion by Captain William Lubber. The journal format of the book is full of pirate treasure, piracy, and even wardrobe. The text is written in a script font which may be difficult for children to read on their own. But that makes it a great opportunity to read along with your tween.
Did you know that according to the 6th Edition
Scholastic Kids & Family Reading Report
, nearly 4 in 10 kids look for books that simply "tell a good story" and books that "make me laugh"? This list is sure to meet those needs. And you can keep the laughter going by having a friendly competition of who has the best pirate voice after enjoying these good stories 
—
 the whole family will be rolling with giggles. Shiver me timbers!
Featured Photo Credit: © SerrNovik/Thinkstock