It was my husband's birthday recently and thanks to the haze of two weeks with sick kids I somehow lost time, remembering only the afternoon before that I needed to buy him a gift! Eek! Like all busy moms, I spend my days (and often nights!) juggling family, home, and work — and keeping all of the balls in the air can be tricky. Every now and then one will fall with a splat. His impending birthday was a classic example.
So, I'm turning to technology to help keep my family more organized. I asked friends and colleagues for their recommendations, and I gave a heap of apps a test drive to find five that are really great to help your busy family get organized.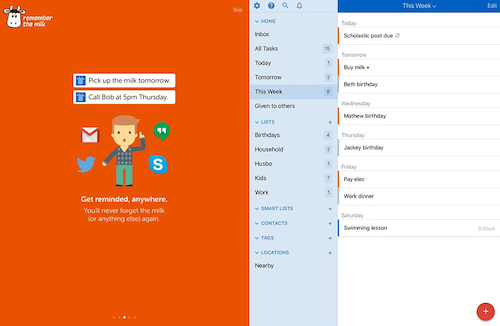 1. I'm a list maker from way back. The Remember the Milk app transforms your good old paper and pencil lists into an organized collection of digital to-dos that go everywhere with you. No more forgetting my list on the kitchen counter and wandering aimlessly around the grocery store. Now, I can simply whip out my phone and check off my list as I shop. The app allows you to create lists of to-dos for anything and everything: groceries, work tasks, kids' activities, birthdays, and more. Plus, you can set up push notifications and/or sync with your preferred calendar app, so that you'll truly never forget to buy milk (or a birthday gift) again.
 

2. Having trouble keeping on top of your household budget? Fudget might be just the app for you. This clean, simple app allows you to create multiple budgets so that as well as planning and tracking your family's household income and spending, you can also create special budgets for family vacations, work expenses, or your holiday shopping. I really like the handy pie graph view that shows you at a glance exactly where your money is being spent.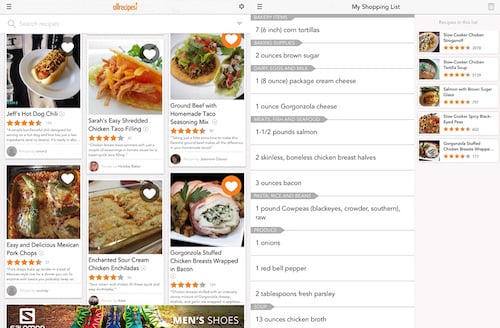 3. A meal plan can be a game changer in a busy family, and while I saw some pricey recipe collecting and family meal planning apps, the Allrecipes Dinner Spinner offers many of the same features for free. Based on your personally selected preferences, the app will provide you with a stream of recipes to try from the Allrecipes collection. You can select your favorites from the stream, or search for even more ideas based on ingredients, dietary needs, or preparation time. Add recipe ingredients to a shopping list with a simple tap and then pop into the shopping list view to see which meals you've tagged for the week.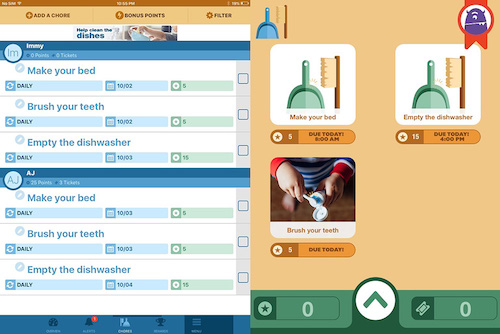 4. With school, homework, after-school activities, and time for play, motivating my girls to make time for their chores can be a challenge. With linked partner apps Mothershp and ChoreMonster tracking chores is easy for parents and checking them off is fun for kids. I like that the app allocates points (set by the parent) for each completed chore, and offers suggested rewards for completing chores — including quality family time ideas like a movie night or family game night. You can also add your own rewards.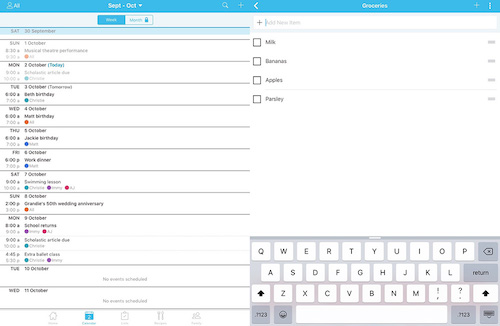 5. If you're looking for a combined list tracker and calendar in one Cozi could be the ultimate in family organization apps for you. Cozi allows you to keep track of who needs to be where and when with a color-coded family calendar. You can set reminders for yourself and other family members, and also email daily or weekly agendas for each person in your family. Cozi also allows you to create multiple grocery and to-do lists, and it includes a recipe box to store all of your kid-approved recipes in one place. There's even a journal for recording important family moments that you never want to forget.
With reminders set up for my groceries, the kid's activities, chores, and even birthdays, I expect there'll be no more last minute gift shopping sprees in my future, and that I'll be a whole lot more organized and a whole lot less stressed!
If you have a favorite app for keeping your family organized be sure to share it on the Scholastic Parents Facebook page.