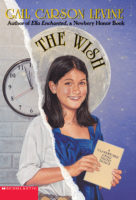 Wish, The
by Gail Carson Levine
There's nothing wrong with Wilma Sturtz. She's perfectly nice. But nobody cares about nice at Claverford, her middle school. Wilma is left out, forgotten, ignored — until she meets an extraordinary old lady who grants Wilma's wish to be the most popular kid in school. Presto! Everything changes. Now Wilma has more best friends than she can keep track of and forty dates to the Graduation Night Dance, and someone is writing her love poetry. What more could she want? Nothing! But will it last? How can Wilma make sure she is never unpopular again?
From Gail Carson Levine, author of the Newbery Honor book Ella Enchanted, this modern-day fairy tale shows a very real girl in a very unusual predicament, and along the way it reveals some painful truths about whether or not we really want to be liked for who we are.
Books for the Teen Age 2001 (NYPL)
Ages

11, 12, 13

Interest Level

Grades 6 - 8

Publisher

Tandem Library

Genre

Fantasy
About the Author
Gail Carson Levine
Gail Carson Levine grew up in New York City and has been writing all her life. Her first book for children, Ella Enchanted, was a 1998 Newbery Honor Book. Levine's other books include Dave At Night, an ALA Notable Book and Best Book for Young Adults; The Wish; The Two Princesses of Bamarre; and her Princess Tales books: The Princess Test, The Fairy's Mistake, Princess Sonora and the Long Sleep, Cinderellis and the Glass Hill, For Biddle's Sake and The Fairy's Return.
The Reading Toolkit