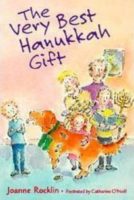 The Very Best Hanukkah Gift
by Joanne Rocklin Illustrated by Catharine O'Neill
Eight-year-old Daniel is afraid of dogs after being bitten by one last summer. During his family's celebration of Hanukkah, Daniel learns of miracles, and hopes for a miracle to overcome his fear like the Maccabee warriors overcame theirs.
Interest Level

Grades 3 - 5
About the Author and Illustrator
Joanne Rocklin
Author Joanne Rocklin has written more than 15 books for children. She has worked as a psychologist and an elementary school teacher and now writes full time.
The Reading Toolkit