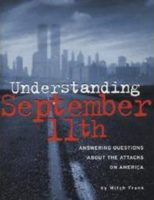 Understanding September 11th
by Mitch Frank
On September 11th, America was attacked. But while we know what happened on that tragic day, many of us don't understand why it happened. In this important book, Time magazine reporter Mitch Frank clearly and concisely explains why, and answers the following essential questions.
• What happened on September 11th?
• Who were the hijackers?
• What is terrorism?
• What is Islam?
• Why does the Middle East matter?
• Why did the terrorists target the United States?
• Why did we go after Afghanistan?
• Who are the Taliban?
• What are the differences between Islamism, Islamic fundamentalism, and Islam?
• Who is Osama bin Laden?
• How has America changed since September 11th?
Written and designed on a level that sixth graders and up can easily comprehend, and filled with pictures, maps, and straightforward explanations, this is the book that will enable young people to understand both the events of 9/11 and the history leading up to it. September 11th is a part of history that Americans should both know and never forget.
Ages

11, 12, 13

Interest Level

Grades 6 - 8

Publisher

Rebound by Sagebrush

Genre

Informational Text
The Reading Toolkit