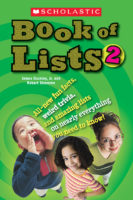 Scholastic Book of Lists II
by Robert Stremme, James Buckley Jr.
This all-new follow-up to the bestselling "Scholastic Book of Lists" features a fresh design and tons of hot new lists.
Kids (and parents) will love the more than 250 new, fun, and fact-filled lists packed into Scholastic Book of Lists II. Building on the success of the original, this version features all-new material, with everything from "Champion Eaters" to helpful school information like "Famous Pharaohs." Every page contains a list that covers a specific aspect of pop culture, history, weather, science, the arts, animals, sports, and more.
The updated, kid-friendly design with numerous (and humorous) illustrations will appeal to kids, whether they are browsing for entertainment or quick homework help.Inside you'll find lists about:
• Good Knights
• U.S. Female Firsts
• Great World Empires
• Own Your Own Island
• Famous Castles
• Smallest Countries by Size
• Highest Waterfalls
• Phases of the Moon
• Deadliest Dinos
• Stinky Plants
• Real Names of Hip-Hop Stars
• Who's Who in Harry Potter
• Ugly Dog Winners
• Really, Really Poisonous Snakes
• Edible Insects
• Most Expensive Items Sold on eBay
• Famous U.F.O. Sightings
• NBA Big & Small
• NASCAR's Families
• and HUNDREDS MORE!
Ages

8, 9, 10, 11, 12

Interest Level

Grades 3 - 7

Publisher

Scholastic Inc.

Number of Pages

320

Genre

Reference
The Reading Toolkit