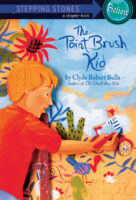 The Paint Brush Kid
by Clyde Robert Bulla Illustrated by Ellen Beier
School's out, and Gregory doesn't know what he's going to do with his summer vacation. During the school year he created a beautiful garden with his giant chalk drawings, and now he'd like to draw something even better.
Gregory spends his days at his friend Uncle Pancho's house, listening to him tell stories about his childhood. But Uncle Pancho is about to lose his house. Gregory comes up with the idea of painting scenes from Uncle Pancho's childhood onto his house in order to make it so beautiful; no one will want to tear it down. And even though Gregory's idea doesn't work out the way he has planned, he ends up saving the day for his friend Uncle Pancho.
Ages

8, 9, 10

Interest Level

Grades 3 - 5

Book Type

Early Chapter Book

Genre

Realistic Fiction
About the Author and Illustrator
Clyde Robert Bulla
Clyde Robert Bulla was born to be a writer, but he wrote for magazines and newspapers for many years before his children's books were published. The chalk garden in The Chalk Box Kid is something Bulla has always wished for.
The Reading Toolkit