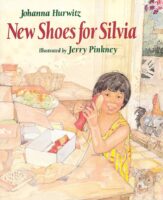 New Shoes for Silvia
by Johanna Hurwitz Illustrated by Jerry Pinkney
Once, far away in another America, a package arrived at the post office. Tia Rosita has sent presents for everyone in the family, but the prettiest present of all is a pair of shoes for Silvia. The shoes are red as the setting sun, as red as the inside of a watermelon, as red as a rose, and the buckles shine like silver. Unfortunately, the shoes are too big, and Mama says to put them away until they fit. But clever Silvia has other ideas. She makes the shoes into beds for her dolls, and then into a two-car train that can carry them around the house. She pulls the shoes around the field the way the oxen pull the plow, and she fills them with the shells and pebbles she collected at the beach with her grandparents. All the while, she tries the shoes on, but they still don't fit. Then gradually she gets distracted...by chores, by friends, and by the new baby in the family, and the shoes are all but forgotten. When she eventually remembers to try them on again, they fit! Silvia proudly wears them to walk to the post office to mail a letter to her faraway aunt.
Johanna Hurwitz, favorite author of many popular chapter books for children, has created a universal story of childhood that is enhanced by its Latin American setting. Young readers and listeners will identify with Silvia's impatience as she waits for her feet to grow, and will enjoy the repetition of that theme throughout the story. Acclaimed artist Jerry Pinkney, whose illustrations have won him several Caldecott Honors and Coretta Scott King Awards, fills his watercolors with mesmerizing details of Silvia's world, evoking the sights, sounds, and smells of the lush tropical landscape as well as the warmth of a close, extended family.
Ages

5, 6, 7

Interest Level

Grades K - 2

Lexile Measure

640L

DRA

20

Guided Reading

L

Book Type

Read-Aloud Book

Number of Pages

32
About the Author and Illustrator
Johanna Hurwitz
Johanna Hurwitz published her first book for young readers, Busybody Nora, in 1976. Since then, Hurwitz has used situations in the lives of her family members for inspiration and details in her more than 50 books.
Jerry Pinkney
Jerry Pinkney has been illustrating children's books since 1964, illustrating over one hundred titles and has been the recipient of five Caldecott Honor Medals, a Caldecott Medal, and five The New York Times "Best Illustrated Books".
The Reading Toolkit