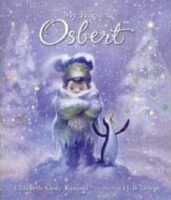 My Penguin Osbert
by Elizabeth Cody Kimmel Illustrated by H. B. Lewis
Fabulously illustrated by H. B. Lewis, Elizabeth Cody Kimmel's hilarious romp through the land of be-careful-what-you-wish-for offers a whole year's worth of holiday fun magic.
This year, I was very specific in my letter to Santa Claus.
Each year at Christmas, Joe writes a letter to Santa. But they've had a few misunderstandings in the past. Last year, for example, Joe wanted a fire-engine-red racecar with retracting headlights, and he did get one — but it was only three inches long. So this year Joe is really, really careful. He describes exactly what he wants — and on Christmas morning, guess what's waiting for him under the tree! Santa has brought him a living, breathing, black-and-white penguin named Osbert.
Will anything in Joe's life ever be the same?
Ages

4, 5, 6, 7

Interest Level

Grades PreK - 2

Genre

Comedy and Humor
About the Author and Illustrator
Elizabeth Cody Kimmel
Elizabeth Cody Kimmel lives with her family in New York's Hudson Valley. Elizabeth is the author of many books for children, including The Invention of Moxie Roosevelt, Balto and the Great Race, and the Suddenly Supernatural Series. She spends her spare time reading, hiking, singing in the choir, rock climbing, and trying to communicate telepathically with her beagle.
The Reading Toolkit