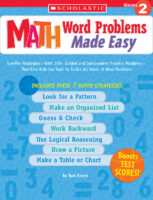 Math Word Problems Made Easy: Grade 2
by Bob Krech
Help build students' problem-solving skills with super strategies for solving any math word problem. Each strategy is clearly explained and comes with practice problems that utilize the specific strategy. Students can then hone their newly acquired skill with 100 word problems on grade-specific math concepts. Great for meeting the NCTM standards!
As students learn about and practice using the Super Seven Strategies in this book to solve problems, ask them to create their own problems. You can list the math concepts you want in the problems (such as addition or money) and even the strategy that must be used to solve it. Students use these parameters to create their own problems, which they can share and try out with one another. As students begin to play with these elements, their knowledge of how problems work grows, as does their confidence when encountering new problems!
Publisher

Scholastic Inc.

Number of Pages

80

Genre

Functional and How-To
About the Author
Bob Krech
Information on writer and teacher Bob Kretch.
The Reading Toolkit