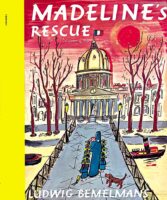 Madeline's Rescue
by Ludwig Bemelmans Illustrated by Ludwig Bemelmans
Winner of the 1954 Caldecott Medal, Madeline's Rescue is the second adventure in Ludwig Bemelmans' classic series of a little girl named Madeline, who lives in a French boarding school. On a walk through Paris one day with her schoolmates, Madeline trips and falls off a bridge into the Seine River. Saved by a dog in a daring rescue, Madeline, the girls, and their teacher, Miss Clavel, quickly realize that they must take the heroic dog back to the school with them. Once there, they feed her biscuits, milk, beef, and name her "Genevieve."
All is puppy heaven for six months (with the only fly in the ointment being who gets to sleep with Genevieve each night), until the trustees, led by the snobbish Lord Cucuface, come for a school inspection. Horrified at the idea of a dog in their school, the trustees cast Genevieve out onto the street. Vowing vengeance, Madeline and the girls and Miss Clavel scour the streets of Paris in search of their beloved and missing pet. The girls return home dogless and broken-hearted, but in the middle of the night, Genevieve comes back and once again, the girls can resume the argument over who gets to sleep with her each night. In a surprise ending, Genevieve has pups enough for each girl to have one, and peace is restored.
Bemelmans' highly original style of illustration is full of personality and Parisian charm. The story is told in verse, from the classic Madeline opening, "In an old house in Paris that was covered with vines/Lived twelve little girls in two straight lines," to the end twist in which "For the third time that night/Miss Clavel turned on the light/And to her surprise she found/That suddenly there was enough hound/To go all around." A delightful installment in the Madeline series, this story will be very satisfying to anyone who has ever experienced losing and finding a cherished pet.
Ages

5, 6, 7, 8

Interest Level

Grades K - 3

Lexile Measure

AD460L

DRA

18

Guided Reading

K

Number of Pages

1

Genre

Classics, Comedy and Humor
About the Author and Illustrator
The Reading Toolkit