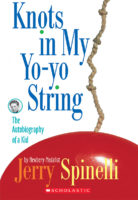 Knots in My Yo-Yo String
by Jerry Spinelli
"Do you think being a kid helped you become a writer?" Inspired by this question, the best-selling author of the Newbery Medal-winning Maniac Magee and the Newbery Honor Book Wringer wrote an early autobiography that will delight his fans and provide food for thought for budding writers. Spinelli grew up in Norristown, Pennsylvania, in the 1950s, and his memories give readers a clear picture of what that world was like back then. Many of the situations are unremarkable, but they are appealing for just that reason. As in Spinelli's many novels, ordinary situations are imbued with humor (and pathos) in the telling. And Spinelli is, first and foremost, a storyteller. The way he describes winning a foot race, losing a family pet, getting his first kiss, and taking his first trip to the principal's office sheds new light on each of these universal experiences.
In this personal narrative, Spinelli also includes embarrassing moments and things that made him feel proud, and he refuses to limit his subjects to what teachers might want their students to hear. For his first sixteen years, Newbery Award-winning author Jerry Spinelli didn't like to read books. Instead, he was a rock skipper, snowball thrower, yo-yo tangler, salamander finder, and aspiring professional shortstop. No, Spinelli wasn't a reader growing up — cereal boxes and comic books were pretty much it. But, oh, the imagination that could interpret a radio broadcast, or the curious spirit that could wonder just how the knots really got in his yo-yo string. Throughout his reminiscing, Spinelli points out the influences that ultimately turned him into a writer. He also encourages kids to create stories by drawing on their own experiences. Such inspirational prompts as "Sixteen Things I Wished I Could Do" can make this entertaining memoir a useful component of a creative writing program.
Ages

9, 10, 11, 12

Interest Level

Grades 4 - 7

Lexile Measure

980L

DRA

50

Guided Reading

U

Book Type

Chapter Book

Number of Pages

160

Genre

Biography and Autobiography
About the Author
Jerry Spinelli
Jerry Spinelli won the Newbery Medal for Maniac Magee, the sixth of his more than fifteen acclaimed books for young readers. Growing up, he wanted to be a shortstop in the majors long before it occurred to him to be a writer. Crash came out of his desire to include the beloved PennRelays of his home state of Pennsylvania in a book. And, of course, to show the world a little bit about athletes and what makes some of them tick.
The Reading Toolkit