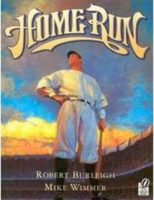 Home Run: The Story of Babe Ruth
by Robert Burleigh Illustrated by Mike Wimmer
Then it is as it should be. Smooth as silk. Easy as air on the face. Right as falling water.
Then there is only the echoey, nothing-quite-like-it sound and soft feel of the fat part of the bat on the center of the ball.
From the team that created Flight: The Journey of Charles Lindbergh comes this timeless, poetic tribute to baseball's greatest star: George Herman Ruth Jr., better known as Babe Ruth. Glorious, photorealistic paintings reminiscent of Norman Rockwell combine with evocative text to capture both the spirit of the man and the wonder with which his fans watched him change the game of baseball forever.
As each page of the story unfolds, carrying the Babe from childhood through a stunning sports career, stylized, vintage baseball cards provide readers with additional information, including statistics, little-known facts, and awe-inspiring anecdotes. Even baseball fans numbed to heroics by the home-run records of recent years will be impressed to learn what Babe Ruth's 1921 record meant in context: his total of 59 home runs was more than most entire teams in the American league had hit that year with all their players put together.
Sure to captivate young sports aficionados, this beautiful picture book is also an excellent first introduction to biographies.
Ages

5, 6, 7

Interest Level

Grades K - 2

Book Type

Read-Aloud Book

Genre

Biography and Autobiography
About the Author and Illustrator
Robert Burleigh
Robert Burleigh has been a teacher, social worker, and mental health worker. Robert currently resides in Chicago, where he enjoys writing and creating art.
The Reading Toolkit