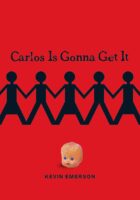 Carlos Is Gonna Get It
by Kevin Emerson
What happens when a prank goes too far?
Carlos is so weird. He always talks about aliens in this annoying shaky voice, he acts up in class and gets everyone else in trouble, and when he starts scratching himself? He's totally gross. Trina and her friends have had enough, and they've come up with the perfect way to "get" Carlos. But when Trina is assigned to work with Carlos on a class project, she discovers both his sweetness and the full extent of his problems. Will she be able to go through with the prank? And what will happen to Carlos when —if — he gets it?
Kevin Emerson draws on his experience as a former inner-city schoolteacher in this extraordinary novel about bullies, pranks, rocky friendships, and what it means to "get" someone.
* "The jungle of middle-school peer pressure is the setting of this gripping story...perfectly captures the classroom power struggles of friends and enemies, as well as the terror of being an outsider if you don"t go along with the group. The dialogue is right on, as is the hurt of betrayal and the guilt that cannot be resolved. In the exciting climax, the class plays their prank during a lightning storm in the mountains, and the setting is part of the drama as a city kid discovers the sense of space on the mountaintop and the feeling of being a giant and a speck at the same time." — Booklist, starred review
"Emerson"s ability to write realistic dialogue and his understanding of the dynamics of middle-school cliques and their inherent power struggles are evident here. The detailed, original and somewhat mysterious nature of Carlos"s idiosyncrasies adds a real spark to this now familiar tale of bullying." — Kirkus Reviews
"Emerson makes the tug-of-war within Trina — between her growing empathy for Carlos and her desire to fit in with her friends — realistic and compelling. Trina's narration is authentic, and dialogue involving parents, teachers and classmates feels lifelike, too." — Publishers Weekly
Ages

9, 10, 11, 12

Interest Level

Grades 4 - 7
About the Author
Kevin Emerson
Kevin Emerson is the author of the Oliver Nocturne series and the young adult novel, Carlos Is Gonna Get It.
The Reading Toolkit