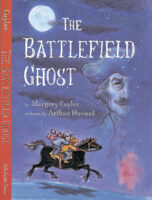 The Battlefield Ghost
by Margery Cuyler Illustrated by Arthur Howard
Eight-year-old John Perkins's family moves into an old farmhouse. From the first day, John is convinced the house is haunted. His twelve-year old sister Lisa soon senses a spooky presence as well
Legend has it that John and his sister Lisa's old house is haunted by the ghost of a Revolutionary War soldier killed in the famous and bloody Battle of Princeton. Now they keep feeling the touch of an invisible hand. The ghost is real! But what does he want from them?
At midnight on the anniversary of the terrible battle, John and Lisa come face to face with their ghost — a Hessian soldier hired by the British. He pleads for their help in solving a mystery surrounding his horse, who was separated from him during a bloody battle. The ghost cannot rest until the mystery is solved.
This exciting ghost story thrillingly combines creepy chills with exhilarating adventure while bringing into vivid focus an important turning point in American history.
Ages

7, 8, 9, 10

Interest Level

Grades 2 - 5

Genre

Horror
About the Author and Illustrator
Margery Cuyler
Margery Cuyler is the author of more than thirty children's books. Her works range from picture books to poetry to nonfiction texts.
The Reading Toolkit