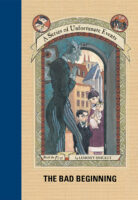 The Bad Beginning
by Lemony Snicket Illustrated by Brett Helquist
When the Baudelaire children become orphans, they are sent to live with a distant relative. Fourteen-year-old Violet, twelve-year-old Klaus, and baby Sunny are very unhappy in their new home. Will Count Olaf succeed in his evil plan to steal their inheritance?null
It's a good thing that Violet Baudelaire has a real knack for inventing things. When misery comes to call, the right invention at the right time can mean everything. It's also fortunate that her brother, Klaus, has read lots of books and knows many important things, like how to tell an alligator from a crocodile and who killed Julius Caesar. When everything that can possibly go wrong does, a small fact can be vital. It's lucky, too, that Sunny Baudelaire, the youngest sibling, likes to bite things. Even though she is an infant, and scarcely larger than a boot, she has four very big and sharp teeth. When trouble comes along, sharp teeth can save the day. But most of all, it is good fortune that Violet, Klaus, and Sunny Baudelaire are as sturdy and resilient as they are, for ahead of these three children lies a seemingly infinite series of unfortunate events.null
While at the beach, three likeable yet unlucky children receive terrible news and more trouble than they ever expected. While it's true that the events that unfold in Lemony Snicket's novels are bleak, and things never turn out as you'd hope, these delightful, funny, linguistically playful books are reminiscent of Roald Dahl, Charles Dickens and Edward Gorey.
Ages

11, 12, 13

Interest Level

Grades 6 - 8

Book Type

Chapter Book

Genre

Adventure, Comedy and Humor
About the Author and Illustrator
Lemony Snicket
Lemony Snicket was born before you were, and is likely to die before you as well. His family has roots in a part of the country which is now under water, and his childhood was spent in the relative splendor of the Snicket Villa, which has since become a factory, a fortress and a pharmacy and is now, alas, someone else's villa. His true birthplace and details about his family remain a mystery.
Brett Helquist
Brett Helquist is an illustrator whose work has appeared in books like Chasing Vermeer and Milly and the Macy's Parade.
The Reading Toolkit