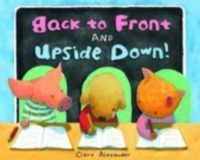 Back to Front and Upside Down!
by Claire Alexander
2013 Schneider Family Book Award Winner
It's the principal Mr. Slipper's birthday, and while the rest of the class gets busy writing cards for the occasion, Stan becomes frustrated when his letters come out all in a muddle. Stan is afraid to ask for help, until a friend assures him that nobody's good at everything. And after lots and lots of practice, Stan's letters come out the right way round and the right way up. This delightful book deals with a common childhood frustration and will remind readers that practice pays off and that everyone has to ask for help sometimes.
Ages

5, 6, 7, 8

Interest Level

Grades K - 3

Genre

Realistic Fiction
About the Author
Claire Alexander
Claire studied fine art at the Kent Institute of Art and Design in Canterbury in 1995 and has a BA honors degree in painting. She is an award winning children's book author and illustrator, winning the Paterson Prize for Books for Young People for "Lucy and the Bully" in 2009. She is represented by literary agent Euncie McMullen.
The Reading Toolkit